Living in a Mining Town - A Memory
Created | Updated Oct 26, 2009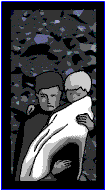 When my mother lived in a mining town called Ashington before the Second World War, as a child she lived in a terraced house. My mother lived with her parents, along with her older brother and younger sister. The town of Ashington is in the South-East part of Northumberland, and the main town of Northumberland is in Morpeth, which is a market town and also where the county council headquarters are located.
Life before The Second World War was a lot slower and more gentle than it is now. The life of the people of Ashington was enriched and strengthened through the influence of extended families as they reached out to all members of the community. This made Ashington a very caring place.
My grandfather and uncle worked in a small office for Linton Colliery as Time clerks. The miners had what was called 'shift work'. The day was divided into three shifts. The shifts were from 8am to 4pm, 4pm until midnight and then from midnight to 8am. Each miner was given an oval-shaped disc with their numbers on.
There were occasionally accidents which either involved falls of stones or gas explosions. Some of these falls caused the deaths of many miners. If the miners did not return from their shifts,the time officer would realise there was a problem and would alert others by issuing an alert through the use of a fog horn. Rescuers only had very primitive equipment to rescue the miners and usually they would be other miners or family members that would help with the rescue from neighbouring areas.
Women would come out into the street waiting for news if their loved ones had been injured or even killed. There is a memorial in the local park to all the miners that have been killed in coal mining accidents in Ashington. At the time when my mother first moved to Ashington, there were five deep coal mines which covered an area of ten miles. These mines where located in and around the Ashington-Lynmouth areas. Now, sadly, all these mines have been shut down. They were North Seaton, Newbiggin, Woodhorn, Linton and Lymouth.
My mother and her family lived just over two miles from the sea. Newbiggin-by-the Sea was very popular then, and packed trains and buses full of people would bring people to the seaside from all parts at summertime every year. It was so popular that people had to walk back home as the buses and trains where so overcrowded. There was a church at Newbiggin, over a mile away from the sea, which now is only a few yards from the beach. There was also a Second World War hideout where soldiers would watch for enemy attacks; either from ships or from planes.
The entertainment in Ashington and the surrounding areas was very good at that time in the 1920s. There were five cinemas: The Hippodrome, The Pavilion, The Buffalo and the Regal at the Co-operative Arcade Store (which was commonly referred as 'The Arcade'), which have all now closed now. In the main shopping area of Ashington there was a large hall there above 'the Arcade' which was used for all types of social functions. There were also other halls in and around the Ashington area which were used for clubs and other interest groups. One of these groups was called the 'Workers Education Society', which my Grandfather was a member of. They provided education and training for miners and their families as well as other members of the community. Through the influence and support of the Workers Education Society, the Technical College was built. On the site of the Technical College there were only allotments where residents grew fruit, vegetables and flowers. The Co-operative society was at the heart of all social, leisure and educational activities in and around Ashington.
At the Co-op stores you could save divi stamps (blue) and save them for certain items in the store. At the Co-op they would deliver your weekly shopping to your home completely free of charge. Also a co-op man would go around the miners' homes collecting money so that they could afford items such as birthday presents, shoes, clothes, or household items that they would not be able to afford from their wages. The Co-op also had lots of small butchers shops throughout the Ashington as well as the big department store and the Co-op food department shop. They also had schemes where you could save for your funeral costs and they were involved in nearly every aspect of life from cradle to grave.
According to my mother, Ashington was the biggest mining village in the world, and at the height of the mining industry there were 27 fully working coal mines in a radius of 6 miles from the town. All my relatives had connections with either working for the coal mines or the co-op. My Grandfather helped in organising the Workers Education Society where they had classes in Ashington High Street. My uncle also worked at the colliery, where he and his father were time clerks. They were responsible for giving the miners their disks when they went down and retrieving them when they went up. They were also responsible for health and safety as well as for first aid and reporting of any accidents.
Ashington had a railway station right up until the early 1960s and then it was shut under the Beeching's plan for re-organising the rail network. Trains were frequent and went to Newcastle, Bedlington and Morpeth as well as other local stations. Generally public transport was much better then than it is now as very few people had cars.
When my mother left school she went to Skery's college and learned basic secretarial skills. This included shorthand, typing and office methods as well book keeping. She was told by a doctor not to take it up as it would be too much of a strain on her eyes. My mother had various eye operations to correct stigmas and severe short sightedness. So she turned to nursing and her office training helped her a lot as she was able to write down all the notes from the various lectures she attended. She trained at the Royal Victoria Infirmary in Newcastle and became a state registered nurse. She did very well and also trained to become a midwife, a district nurse, and went to London and worked at the various major hospitals in London.
Ashington has changed a lot since my mother was growing up as a child and young adult. There are new housing estates being built, as well as a new hospital. There has been new development such as business and industrial parks being built. A mining museum at Woodhorn is dedicated to the history of the local mining industry. Some things have changed for the better but others have not. Although mining was a dirty and dangerous industry which caused quite a lot of miners to get lung diseases or 'white finger' due to the vibration of the automatic drills they used, it's sad in a way because they helped build up Ashington and surrounding areas. Along with the mining community and the co-op it helped people with work, social needs and support. Sadly Ashington and many ex-mining towns have not fully recovered after the mine closures as there is still high unemployment with most of the work in Newcastle or in Gateshead and the competition for jobs is very high.