This Sporting Life
Created | Updated Jun 22, 2003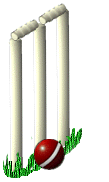 The Battle for the Ashes
So it has finally arrived. Today sees the start of the first Test
between England and Australia for the Ashes; a small urn that, whoever wins,
remains at Lords Cricket Ground. From 5 July - 27 August, we are
technically at war. For both teams and their supporters, an Ashes series
stands head and shoulders above all the other fixtures.
While the story of the Ashes is a well known one, it serves to repeat it
to explain to non-cricket fans what all the fuss is about. It stems from one
shocking day in 1882, when an Australian cricket team1 beat England on home soil for the first
time.
So great was the shock that echoed through the hallowed halls and grimy
alleys of Victorian Britain that the following day a mock obituary was
printed in the Sporting Times:
In Affectionate Remembrance of English Cricket, which died at
the Oval on
29th August, 1882. Deeply lamented by a large circle of sorrowing friends
and acquaintances
R.I.P.
N.B. The body will be cremated and the ashes taken to
Australia.
It was the return fixture that saw this conceit become a reality. The
next tour of Australia saw the England Captain, the Hon. Ivo Bligh, lead the
England side to a 2-1 series victory2. He was presented with a small
urn, by a group of Melbourne Ladies, containing the remains of a bail which
had been burnt ceremonially. As with all good stories there is a little bit
of romance3.
One of the ladies who gave the urn to Bligh was Miss Florence Rose Morphy.
Shortly before Bligh returned to England, he asked Miss Morphy to marry him
and she duly did.
What follows has shaped the history of the summer game. The names of all
the great Ashes players live on in English and Aussie popular consciousness:
Jack Hobbs; Harold Larwood, Jim Laker, Don Bradman; Dennis Lillee and Ian
Botham. The list is, of course, much longer. The history of the fixture is
what makes it important. There is a history to the rivalry and an awful lot
of national scars to avenge.
I, personally, can't wait. Even if the matches are a little one sided, it
will still be a great summer. Hopefully, it will be a closely fought,
well-matched series with lots of dramatic happenings. White-washes are no
fun for anyone.
Abi... Post Ashes Correspondant.
1Only the
third to tour England
2There was a fourth unofficial
match which was won by Australia
3Though sadly, there isn't a bit with a dog.