The h2g2 Poem: 'This Poem'
Created | Updated Sep 16, 2009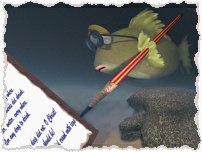 This Poem
I've thought long and hard, and more today

About whether I should go or stay.

Some things are gathering in my way...

And so I write this poem.
Recently I've had problems with my health.

Others have been hit on their wealth.

Depression can creep up with such stealth...

And still I write this poem.
I can laugh and joke, even play the game;

I love this place. I will not flame!

The trolls these days are just too tame...

Just another verse to this poem.
With everything going on, and such;

I find things can become too much.

Bel, my wonderful friend, has been a crutch...

Now I cry as I write this poem.
So from The Post I must depart.

That fantastic place that gathers art;

With stories written from the heart...

I thank you all, as I end this poem.