This Sporting Life
Created | Updated Jun 22, 2003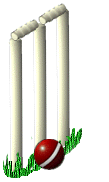 England v Pakistan: First Test, Lord's
I love cricket. Always have and I guess I always will. Of course it has
been pretty tough being an England supporter over the last decade, but I
only have to feel the first warm rays of sun and I start hankering after
Test series. This year there is the heady anticipation of a visit from
Australia. For all cricket fans, be they hardcore members of the Barmy Army
or the less committed, there is nothing like an Ashes summer. The sun
shines a little brighter and there is the chance to bring out all the old
national stereotypes about our Antipodean cousins. The trouble is, it is
hard to barrack with any conviction when your team is playing like ... well,
very badly will suffice. An Ashes summer which consists of a cricketing
whitewash is no fun for either set of supporters.
This Monday morning, most of the non-cricket loving populace will have
awoken with a start to hear on the radio or read in their newspaper that the
England cricket team had won ... again. Beating Pakistan by an innings and
9 runs. Surely this was not true. England are meant to be rubbish at
cricket simply because we invented the game and therefore it is the duty of
every other cricket playing country to beat us senseless.
But listen carefully, and you will have heard it was true. BBC Sport Online were
not joking when they described it as "England romp to an emphatic win" and
this was done in three straight days1. Not only did England show solid
batting to reach 391 all out2 but they then proceeded to bowl
Pakistan out twice, taking sixteen wickets during Sunday's
play3. Look at the scorecard and you will see steady scoring throughout the
order, rather then the sort of batting collapses that England fans have been
used to over the last decade. With regard to bowling, Gough and Caddick are
proving themselves to a world class combination whatever the Aussies might
say. Caddick took four wickets in each Pakistan innings and Gough took five
in the second, becoming only the eighth England bowler to reach two hundred
Test wickets in the process. The real revelation, however, has been in the
fielding, particularly in the slips, where catches were held. So often in
the past crucial catches have been dropped. There were, of course,
downsides. Most notably Nasser Hussain, the England Captain who broke a
thumb during Saturday's play and will be sidelined for at least four weeks.
It was, however, a match for England fans to savour.
This performance has lead the Australian Vice-captain, Adam Gilchrist, to
comment:
'Beating a good side like Pakistan in three days is a fantastic
effort whichever way you look at it, and it will give them a lot of
confidence for the rest of the summer. It should be a very good, hard
competitive series and we're looking forward to it.'
I would be the first to admit that Pakistan were vastly underprepared for
this first of two Tests, particularly with regard to batting. The final
warm up game, played against Kent County Cricket Club was a victim of the
weather and sitting around in dressing rooms is not an ideal way to go into
a Test Match. On the other hand, England have performed well over the last
year, particularly during the winter when all but the hardcore fans find it
difficult to chart performances. If England win this test series against
Pakistan, by winning or drawing the next match at Old Trafford, then they
will extend their run of Test series wins to 5.
I don't want to tempt fate but keep an eye on England this summer. They
are looking quite good!
Abi... Post Ashes Correspondant.
1The first day's play having
been washed out by rain.
2Graham Thorpe top scoring with a score
of 80 which included twelve 4s.
3That man Thorpe again, taking four catches in the
slips.