Just for Fun
Created | Updated Jun 22, 2003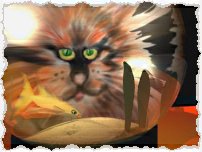 Can anyone answer me this question, why, when I go out and buy myself a new computer game, costing about £40, do I then go back to playing DXBall, which I downloaded off the net years ago for free? The new computer game goes unplayed, after the initial couple of hours of playing.


No doubt the answer is 42, as all good answers are, or, stop buying computer games. Nahhh, I like the 42 answer best. Anyway, enough of me ranting on, it's time for, 'Just For Fun'.

IT'S A WRAP

The weekly movie quiz for all you film buffs out there...answers, as usual, in next weeks 'The Post'.




THREE KINGS


An action-packed adventure you will never forget.


Who plays Major Archie Gates?
During which war is this film set?
Who directed the film?
Who plays Sergeant Elgin?
Where was the gold originally stolen from?
JOKE OF THE WEEK

A Scotsman was visiting a friend in the mountains of Canada. The first morning in the cabin, he awoke and stood by the window admiring the scenery. Suddenly, he noticed a huge animal walk by. "Och, whut's thaaat?" he said.

His Canadian friend looked out and said, "Oh, that's a moose."

"Ouch! If thaaat's a moose, hoo big are your cats aroond here?"




GET YOUR THINKING CAP ON

A question will be set every week for you all to try and answer. The question will be a mind-bending puzzle, and the answer will be given next week.

The question:-


There are four pairs of blue socks and three pairs of red socks in a drawer. In the dark, how many socks must you take out of the drawer to be sure of getting a matching pair?




FUN ON H2G2

I enjoy browsing pages on H2G2, so I thought that I would bring your attention to some of the fun researcher written pages I have come across on my travels.




Tongue Twisters are always fun, especially when someone else is saying them. Nimitz has written an article about them, why not go and see if you can say them.





CLICK HERE




NAME THAT SONG

Each week I will print a quote from a song, all you have to do is guess the title of the song and who sang it.

This weeks quote:-




'Golden words he will pour in your ear'



THE WEEKLY ANAGRAM

For those that don't know, an anagram is a word or words, formed from rearranging letters from another word or words. An example anagram would be, Cat Got Beer, which reaaranged makes my name Greebo T. Cat.

Each week I will print an anagram and a clue to what it is. You will have until next week to get the answer.





TRY PERT CHATTER


hint:Fantasy Author





LAST WEEK'S ANSWERS


It's A Wrap

BATMAN AND ROBIN


Who plays Batman?
George Clooney
Who plays Robin?
Chris O'Donnell
Who directed the film?
Joel Schumacher
Who are the two evil baddies of the film?
Mr. Freeze and Poison Ivy
Alicia Silverstone is who in the film?
Batgirl

Get You Thinking Cap On


Q. How many letters are there in the alphabet?

A. 11 - THEALPHABET

Name That Song


I Have a Dream by Abba


The Weekly Anagram


WEEKLY SULK ARK = LUKE SKYWALKER



AND FINALLY


Send your jokes, letters and anything else to me here:-


Greebo T. Cat



Please Write 'JUST FOR FUN' in the Subject Line, or your letter may be overlooked.


Thanks again everyone...

Greebs