Absolutely Plumb
Created | Updated May 27, 2009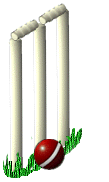 England v West Indies, One Day International, Bristol, 24 May 2009

England's second-largest ground was not exactly well-prepared for the arrival of thousands of fans or at least, if it was, the stewards at the County Ground in Bristol hadn't thought that the majority of fans might arrive half an hour or so before the start of play. We were still queuing to get in as a round of applause greeted the players' arrival. The queue sped forward as the stewards rushed people through, but one couldn't escape the feeling that they might have considered a sense of urgency just a little earlier.

The huge outfield was brought in by a good 20 metres to accommodate several thousand temporary seats, and by the time we found our place among them England has already struck. We caught the replay of Broad's plumb lbw shout against Lendl Simmons, and moments later he also removed the classy Sarwan, caught behind and also for a duck. The West Indies were 7-2 after just a couple of balls more than three overs, and needed a partnership quickly.

The new batsman, Shiv Chanderpaul, was looking to rebuild the innings, but Chris Gayle was soon on the attack. I'd have loved to have been able to listen in on their little chats between overs, because they were clearly playing totally different games. Gayle is just the kind of batsman you love to watch in the short form of the game; tall, strong, powerful, aggressive and fearless. It wasn't long before he clouted Broad for two successive boundaries – the first a monstrous heave over long-on – and Strauss responded by bringing on Graeme Swann as early as the 9th over.

The shot that followed was extraordinary. It was a slog; no footwork and pure, raw power, but dripping with contempt. It was as if Gayle was saying to Strauss 'how dare you bring on this fool against me?' and there was no doubt in anyone's mind that we were about to see something special.

And we did, but not in the way we or Gayle had anticipated. He swung again, and simply missed the ball, which went on to almost uproot his middle stump. Gayle trudged off disconsolately, knowing he had blown it, but it was a telling and intelligent contribution from Swann, and one that swung the momentum very clearly England's way. Gayle was out having scored 31 of the West Indies' 44 runs. His side were three down, and it would fall to Chanderpaul and new man Bravo to rescue the innings.

I hoped they did, for two reasons. Firstly, it was my first ODI, and already we were discussing what we might do with the afternoon if it were all over by two o'clock. And secondly, I wanted to see Bravo bat.

Bravo is a talented cricketer with bat and ball, but he has a commitment second perhaps only to Flintoff. He can change matches all on his own, and if I was only to see him bat once, I wanted him to put on a show.

Fortunately for my afternoon and my hero, they knuckled down and started to get some runs on the board. As the partnership approached 50, Bravo began to hit out, hammering Mascarenhas over long-off with a most Gayle-like 'stroke'. Broad was removed from the attack and Tim Bresnan brought on to little avail, until finally the latter induced a top edge from Chanderpaul that flew high in the air. For a moment, the crowd panicked, thinking Matty Prior was underneath it, but fortunately Strauss stepped forward from first slip and took the catch. Now the West Indies were in serious trouble at 107-4, and Bravo followed 21 runs later – bowled by Collingwood!

With Bravo's dismissal, the West Indies had little batting to come, and a collapse was inevitable. More importantly, though, they had no nous; Jerome Taylor set off for a single that was never there, was sent back, took an aeon to turn and was run out by an absolute mile. It was laughably-poor cricket, and only Darren Sammy looked capable of playing anything like a 'proper' cricket shot as batsmen fell to straight balls all around him. I missed perhaps the best cameo of all, as the enormous figure of Sulieman Benn strode out with what looked, in his hands, like a child's bat. He scored one run and was out before I'd returned from my wee. I am grateful to my brother for taking this wonderful photo of him at the crease:

And he was batting at ten!

England brought back Broad to bowl at Ravi Rampaul, the last man in, and poor Ravi faced a torrid succession of bouncers and was hit by a couple before finally gloving one through to Swann at slip. I'd imagine he was rather relieved to have been given out. The West Indies were all out for 160, and didn't really deserve any more. In fact, they were bowled out so quickly that we had a full 45 minutes of play to come before tea, so after the obligatory ten minutes' padding up time Strauss and Bopara came out to open England's batting.

Taylor opened with a loose over that was milked by the England batsmen, before Strauss was put down by Pollard at point in the second from Rampaul. Pollard followed this up a few overs later by allowing a gently-bouncing ball to run through his legs for four in a moment Monty Panesar would be embarrassed about. The crowd were merciless, cheering every time he touched the ball from then on. He would have the final say, but too late.

By tea, England were cruising at 35-1, needing just three runs per over to win, and with the loss of Strauss the only blemish. The crowd were becoming pleasantly drunk. Time to bring on the dancing girls.

Ah, you don't get that at Taunton.

The game really was starting to peter out as England played it cool and rotated the strike, accumulating their way towards the win. Gayle's tactics were somewhat baffling; outside the powerplays, he had four or five fielders protecting the boundaries. The West Indies' only hope of a win was to be aggressive and take wickets, but with the field out England could just steer the ball into the gaps and take easy singles with no risk. The crowd entertained themselves by making poles out of their empty plastic beer glasses, and for a while there was a competition between stands D and E to see who could make the tallest. The stewards, sensing danger, stepped in quickly and rather sensibly saved us all by taking the glasses away.

Back on the pitch, Shah and Collingwood were steering England towards victory. Colly, perhaps with one eye on seeing the football pan out later on, heaved a couple of boundaries just before drinks (including England's only six of the innings) and stepped on the gas after tea. With 16 overs left, England needed just five to win.

Then Pollard had his moment. Collingwood and Shah ran a quick single, and the big man gathered, rolled over and up onto his knees, before shying at one stump and hitting to run out Shah.

His performance summed up the West Indies perfectly; generally fairly inept but punctuated by the one moment of brilliance. Only Bravo really stood out for them at all, and he was made to look better by the general – and I'm sorry to say it – incompetence of those around him. There is a lot more in them than they showed at Bristol, that is for certain.

With the dismissal of Shah, it was left to Eoin Morgan on début to come on and score two of the four England needed, including the winning run. There were still 14 overs left if England had needed them, but that never looked likely.

After the match, we waited for the players to come out, in the hope that we could snap a few of them wearing Cavaliers caps for our website. So huge thanks to Ramnaresh Sarwan, Mushtaq Ahmed, Tim Bresnan, Ravi Bopara, and Matty Prior for being so obliging. It put the icing on my first-ever ODI : what a cracking day!

To see more of my photos from the day, check out my photo gallery.