The Habarana Lodge, Sri Lanka
Created | Updated Jun 21, 2003
It is one in the morning by the time I'm into my final part of the day's relaxation. It has been a long day here at the Habarana Lodge and it went a little bit like this:
I wake early at around 8.55am to the dignified hum of the air conditioner... a vital piece of technology if you want to sleep like an infant in the hotter parts of the year (conscience permitting). With five minutes to make it down the zen like pathway, around the so-refreshing-you'll-want-to-pour-it-down-your-pants swimming pool and up the granite steps into the dining room, I know it's going to be hectic. I make it with a good two seconds left before they shut the place for lunch.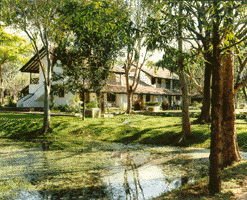 Fortunately, I know the nice man in the chef's hat and he lets me eat my breakfast before the ancillary staff... who are mind bogglingly assiduous... begin to swarm. After a healthy breakfast at which I have the choice of both Western and Sri Lankan morning munchies it's time to hit the woods. Instead of taking one of the tours organised by the Lodge to three of the country's main sites of archeological interest or submitting myself to a fungal wrap and a foot massage at the health spa I opt for a less sweat inducing holiday this time.
Armed with a good book (may I suggest a compilation of Bill Watterson classics) and a few easy CD's I head into the 'gardens'. I don't much care for gardens but then, to call the space surrounding the Lodge a mere 'garden' would be to do great injustice to the 10 Hectare woodland sprawl that does in fact surround the Lodge. It's as if someone said:
'Look, the property values here are appalling, we need to move Heaven to a better neighbourhood'

and then picked the spot the Lodge is built on. Being here, even for a few days will make you smug. So, after a slow amble to the nicest of the benches located around the grounds (this one is ten feet off the ground, in a tree and it overlooks a lake, which is nice), I'm up the ladder and, as I gaze over the shimmering lake, cool breeze in my face, I know what living well means.
By around one o'clock I'm getting that famished feeling and, knowing how long it takes me to shamble there through the fog of bliss I'm in, I steel myself by swiftly relaxing for another half an hour. When I get to the dining room lunch, as always, is superb. Swim or nap, I wonder.
I rise at four to a hefty cup of coffee on the balcony. Energetic people are doing energetic things. Some are swimming frenetically in the pool. Others have rented '40's retro push-bikes and careen around the grounds and yet others have gone for walks to the lake to watch avians of all colours and cacophonies. I settle into a deck chair and a gin and tonic. This really is the best time for a quick swim the day's warmth has been caught in the water and there's still a summer breeze in the air.
By the time I finish my swim two hours later, all the energetic folk who went sightseeing are back from a glimpse at 2,500 years of history. Instead of pausing for refreshment they rush to the Lodge's gift shop. I'd have at least paused for one of the nation's many types of chilled beer. But that's me!
A little more reading, napping and listening to music and it's nearly dinner time. I notice there is clearly something wrong with Time here... it moves at a far greater velocity that is usual. I inform the duty manager about my discovery. He gives me a cold lemonade on the house.
After dinner I run into some friends from about three chalets over (no rooms in this place see? It's all two-story chalets dotted around the grounds). Over an arrack and soda... arrack is a local liquor, like scotch but more aggressive... we decide to rent a jeep and a tracker and go for an elephant safari tomorrow. It's only a quick 20 minutes to the Minneriya Safari Park followed by three hours of pointing at happy pachyderms.
After a strenuous few hours at the bar planning the activities for the next day we retire to our respective beds fully intending to be at breakfast on time.
The Habarana Lodge: General information.
Cost of rooms:
Single $48 (US)
Double $35 (US)
Travel time from Colombo... 4 Hours
Internet bookings and other information about the Lodge can be found at the Keells website under the 'Hotels' section.