Human Rights Watch
Created | Updated Mar 24, 2005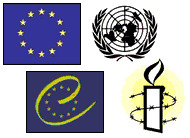 UK: 10 men, who have been under arrest since 2001, have been released after the right to hold them expired on March 13th. They are now under house arrest, but still without trial. This is against the Human Rights Act, where a fair trial is part of our rights.
Egypt: On the 4th March Egypt Human Rights Organisations started to receive reports that the village of Sarando in Egypt was under siege, with arrests, beatings and house arrests taking place. On 10th March a delegation of human rights activists entered the village under threat of arrest. They found the village full of policemen but no men. The women present said their telephone lines had been cut and they were not allowed to leave their homes to tend crops or animals, many of which died due to a lack of care. Women have been sexually abused and one has died. They still don't know where the men are.
The original dispute was caused by a family accusing the villagers of stealing crops.
Angola: It is 3 years since the civil war ended and hundreds of thousands of Angolans are returning to their country. The government promised to help but conditions for returnees are not good. Some areas have no basic amenities, heavy mining and authorities that harass you if you do not have identity cards. Yet people who left in a hurry with nothing often won't have identity cards. The UN is reducing its presence now, when the country needs help to rebuild.
Tibet To keep up-to-date with the human rights issues in Tibet please refer to Tibet News by John–the-gardener.
Information and Links