The h2g2 Poem
Created | Updated Apr 9, 2008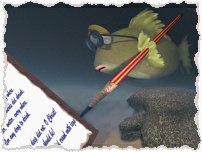 PendanticBarsteward taught English to Moroccan students using a system called 'Computer Aided Language Learning', or, CALL for short!
CALL It What You Will!
The trouble wit' bein' a teacher,


If trouble there be there at all,


Is ter get yer 'Ed round 'em computers,


An' give classes summat called CALL!
Now teachers are genrally Luddites,


ELT ones are summat the wurst,


So all changes are viewed with suspicion,


An' computers are seen to be cursed.
But CALL is the latest invention,


To come to the ELT scene,


An' it gives the aspirin' young teacher,


Wot before 'e could only but dream.
Now, instead of 'is 'avin' t' worry,


About gettin' 'is lesson just right,


He just plugs 'is class inter computers,


Then 'eds off down't pub fer a bite.
But the best of all's called 'Distance Learning'


Where the teacher can stay in 'is 'ouse,


An' keep track on wot classes are doing,


Just by fiddlin' about with a mouse.
The computer learns voices of 't students,


And understands just wot's bin said,


So the teacher don't 'ave t'do nuffink,


Just stay 'ome and rest in 'is bed.
If the class feel the urge fer sum feedback,


They can have it by the clickin' their mouse,


An' by sendin' a note to the teacher,


Wot 'e gets wivout leavin' 'is 'ouse.
In fact its so bleedin' efficient,


This all singing, all dancing thing CALL,


That before you can say 'Bob's yer uncle',


They won't need bloomin' teachers at all.
So perhaps the whole future of teachin',


Should consider wots comin' t' be,


And the teachers should look for re-training,


In the subject wot's known as "'igh Tea"!