The h2g2 Poem
Created | Updated Apr 9, 2008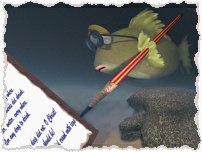 Snowy Greetings


Whilst busy subbing Sunday morn', I had a nice surprise:


A friend sent me a photo; it made my spirits rise.


It showed a lovely snowman which looked somewhat laid-back,


Supported by my smiling friend; I spontaneously smiled back.


So there you see, a lovely smile is all it often needs


To make somebody happy; it doesn't take 'grand deeds'.


It's just a mouse click, maybe two, and then, without delay


My friend is there, smiling at me - these greetings made my day.