The Post's 'One Vowel Poems' Competition
Created | Updated Apr 9, 2008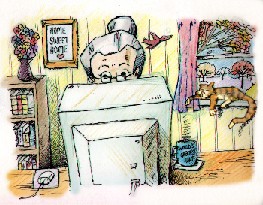 WooHoo! I've been left on my own in The Post Office!
Before everyone comes back, I would just like you to look at this:
Green
The freeze ended we emerge feeble, depressed.

Seek fresh green where sheen decks hedges,

Slender stems peer between pebbles.

We delve, extend beds, feel wetness,

Set seeds, fetch shed-preserved beets.

Remember, we need green.
And what is special about this poem?
Words
How do words work, form long strong fronds?

Do words flow from God so folk know how to do good?

Do words grow from howls on floors of old woods?

Oh to know: do folk form words, or words folk?
Can you see the connection?
No, not the poet! Although a very clever poet, indeed. Just look at the words. Do you notice anything special about them?
Yes! They only have ONE vowel running through them!
This next poem should make us all pause to reflect:
A Past
As a band starts a march,

A man stands, calls back a past:

A war, flat sand and tanks.

An attack, a flash, a man aghast.

A scar that lasts.

So, here we go - I'm pleased to announce:
The h2g2 One Vowel Poetry Competition!
I know how clever you all are. So, here goes! Get your thinking caps on and start writing 'One Vowel' poems!
You have until midnight BST on Sunday 4th May, 2008, to submit your poems for publication on the 8th May, 2008.
Shhh! I can hear them coming back!
You are allowed to use the letter 'Y' if it makes things easier.
So I shall leave you with one final poem to help your creative juices flow:
Living
First it brings piling, piping, wiring, lighting,

Digging, mixing, fixing, lifting bricks.

It brings driving, dining, fighting with dirt,

Kids hiding, skipping, fiddling with sticks.

Spring brings wild things dwindling.
Competitions and Quizzes Archive
lil and minorVogonpoet

on behalf of the Post Team