Agony Aunt
Created | Updated Jun 21, 2003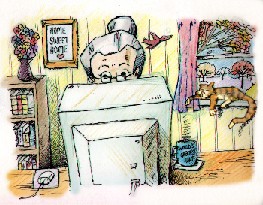 Good day my dear friends. I know that normally you come here to see the newest question that has been placed before me and the answer that I give but today is different... today is Mother's Day. Today instead I would like to take time to say thank-you to all of those Mothers out there who have selflessly given of themselves to care for us.
It never matters what our Mothers are doing they always have time for us. Without a second thought they will drop everything to take the time to help us learn and grow as individuals. At any given time you can witness a mother playing with her child, reading to her child or any number of other things. If ever we hurt she will work her magic to take the pain away, if we are sick she knows just what we need to make us feel better.
A Mother has many roles and is able to master them with what looks like great ease. Never have I seen anyone able to do more than a Mother, she has many jobs and does not seem to mind any of them at all. I would like to take this moment to honour Mothers everywhere and wish them the best in life and happiness not only on this day but throughout their lives. We would not be the same without you.
If YOU have a problem you wish to share with our Agony Aunt, you may
reach her by mailing Agony Aunt