The h2g2 Poem
Created | Updated Feb 14, 2008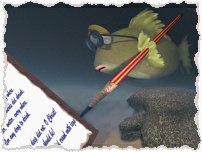 Our Bel
While playing on the Internet

Some super people I have met,

But first among them is dear Bel -

Three parts angel - one part hell.
In beeblecasts she can be heard,

Her AViating spreads the word.

Her accent it does tingle toes

And turns men's heads where'er she goes.
Miss Popular she is - no doubt.

She's always busy hereabouts,

In Random Ramblings you can read

What goes on inside that head.
Then chatting in her journal Yikes

With Prof or Moonhogg and the likes,

You'll find the blues just fly away

But whoops! There goes another day.
You'll share with her a lot of stuff,

She's much more than a bit of fluff.

She's Aceing, doing hootoo duty,

A talent - not just foreign beauty.
Before you know it you will be

Trapped in her web - just like me.

And free time you will have to seek

Coz you'll be writing every week.
So, when you meet her just beware,

Treat her well and have a care.

You'll love her - what's not to love with Bel?

Three parts heaven - one part hell.