The Horse and Groom - Previous Beerfests and Tasting Notes
Created | Updated Apr 8, 2008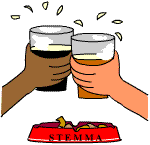 The Horse and Groom - the home of the h2g2 beerfest - has regular sampling evenings1 where the regulars taste some seriously good ales and talk about them at length.
Details of our previous beerfests can be found below:
14.12.07: The first ever h2g2 beerfest gets underway. Selected beers tonight are Hobgoblin, Old Peculier, Bishop's Finger, and Jennings Cumberland Ale, plus Thatcher's Gold cider and Whitstable Oyster Stout, which no-one manages to get hold of. Even without Evadne Cake to lead the charge to the bar, it's still an impressive evening's drinking, with 18 beers sampled and the birth of the YouTube jukebox. After 472 posts, Roymondo asks Gosho to marry him, and the hangovers begin seven posts later.

05.01.08: Skankyrich hands over bar duties to Mu Beta due to a heavy cold. The official beers tonight are Adnam's Broadside, St Austell Tribute, Black Sheep Ale, Fuller's London Porter, Westons Vintage Cider and Marston's Pedigree, and by and large they prove to be fine choices. The YouTube jukebox is in full swing and, somewhat predictably, everyone ends the evening by claiming they've got loads of beer left and aren't drunk in the slightest. Then they all pass out.
Tasting Notes

The following ales have been awarded five out of five by at least one Researcher, and therefore qualify for the Horse and Groom Medal of Honour:
Wychwood's Hobgoblin
Sierra Nevada Celebration Ale
Adnam's Broadside
Wyre Piddle Brewery's 'Piddle In The Hole'
Marston's Pedigree
Jennings' Snecklifter
Adnam's Broadside

Here are all the ales featured so far in the our beerfests:
Beers
Ale
Taster
Date
Sampling Notes
Rating
St Austell's Tribute
Skankyrich
14.12.07
Tempting light amber in colour, slightly acidic aroma. Lightly roasted malts and fairly bitter; a fairly standard beer but done extremely well. Let down a little by gassy bottling, but by and large thoroughly drinkable.
4
Shepherd's Neame's Bishop's Finger
BobStafford
14.12.07
Pours well nice aroma lovely mid brown. Bright taste, lots of hops in this one, a taste so deep you can wade in it. Nice aftertaste.
4
Skankyrich
14.12.07
Lovely colour and an extremely promising first taste, but there it ends. No body to it at all, and there's a huge gap between the swig and the delicate aftertaste. Odd one; nothing to dislike about it, but no great appeal either. Reasonable.
2.5
Roymondo
14.12.07
Very short head, looks like liquid mahogany, smells like beer, sharpness flitters over a rich body. The only downside is that it doesn't hang around the palate very long.
4
Mu Beta
14.12.07
Lovely deep ruby-brown colour. Heavy malty-liquorice flavour. Lingers on the roof of the mouth. Slight leathery aftertaste, which is always a turn-off. A nice enough brew.
3.5
2legs
14.12.07
Pours nicely. Smells bluddy fantastic. Tastes wrong. It doesn't taste like it does from the pump. The gaseous nature is entirely at contradiction with what one gets in the pub.
2
Average
3.3
Wychwood Hobgoblin
Mu Beta
14.12.07
Nice dark brown colour - good Northern-style pint, this one. Remarkably easy drinking, even if there's not much to stand it out from the crowd. Strange carbonated notes don't really help it's authenticity. Light, almost citrussy in the aftertaste.
3.5
Skankyrich
14.12.07
Settles into a deliciously foamy head - could almost have been poured from the tap. Invitingly rich aroma and a punchy first taste; mellows slightly but retains fullness right through to the aftertaste. Very malty and slightly roasted. An exceptionally good dark beer. Full marks.
5
BobStafford
14.12.07
Fine dark pint, a good head excellent first tase, that lasts through the pint. Subtile malty taste. Carbon there but so far in the background as to be unnoticeable. I like this a lot.
4.5
2legs
14.12.07
This is nice, from the aroma through the first sip, to the aftertaste and then again on a good glug and aftertaste too....
4.5
Average
4.4
Old Peculier
Skankyrich
14.12.07
A beautifully heavy-looking pint that doesn't quite deliver on its promise. The head is delicious and sharp and the first taste heavily malty, but it tails off just a little too much. The aftertaste is pretty indistinct, although the flavour lingers around the lips, and it tastes as strong as it should. Almost wonderful.
4.5
Roymondo
14.12.07
Looks like brown Ribena, but in a good way, smells of heavy fruit, slight head which retreats quickly. Sweet but deep, thought the depth soon flirts away to somewhere more interesting than the palate leaving you with a sweet, malty yet disappointingly bland finish.
2.5
BobStafford
14.12.07
Peculier is right a promise that fails to deliver at the finish. The first taste is just superbe but it lacks a finish, shame...
4
Mu Beta
14.12.07
A heavy stout [?], somewhat akin to chewy boot polish. Nice cinnamon aroma, chewy on the tongue. No discernible aftertaste.
2
Average
3.3
Bah Humbug
Gosho
14.12.07
A rather murky, dark amber colour with an aroma that promises too many hops but thankfully the beer doesn't deliver them. This isn't as crisply hoppy as most of the American winter seasonals I've had recently. It's much more of a session beer. Some of those US beers I can only manage one or two pints of. This one I think I could drink all night. Good stuff.
4.5
Hobsons Town Crier
BobStafford
14.12.07
Local to Ludlow. Pale golden good head and nice aroma. Very good taste from start to finish malty aftertaste, a nice friendly beer. Camra award winner.
3.5
Jennings Cumberland Ale
Mu Beta
14.12.07
Very effervescent out of the bottle, almost like a pub pint. Thankfully doesn't taste too fizzy. A pale ale, colour best described as 'pastel crayon, sienna'. Pleasing vanilla undertone, big and fruity in the mouth.
4.5
Stinfer
Roymondo
14.12.07
The aroma possesses a worryingly second-hand quality, and there is little head. It is the colour of the morning piss. Having said that, it's quite light and refreshing, but tastes of very little.
2.5
Sierra Nevada Celebration Ale
Gosho
14.12.07
Oh boy, this one delivers the goods in spades!!! Mouth-puckeringly hoppy but delicious all the same. You can taste this one for hours after drinking it. Clean and crisp, nice head, hits you like a gold brick wrapped around a slice of lemon.
5
Bateman's Rosey Nosey
Mu Beta
14.12.07
Ruby rich, a true winter warmer. Long on aged hops and a little malt. A lot of rich treacly tastes with a bit Excellent drinking with a Christmas turkey, I'll be bound. Goes down like an Essex girl with a foot on her head.
4
Black Sheep Ale
Roymondo
14.12.07
Dark amber, slight head with staying power, slightly fruity/hoppy whiff to it. Trying to be rich but is restraining itself. Much the same at the start as the finish. Pleasant enough, no real character, but I wouldn't kick it out of bed.
3.5
Mu Beta
05.01.08
Pale-ish in tone, holds a promising rich aroma, almost like the Sunday roast. Sparky flavour, with some citrussy hops, but has nothing to hold the attention. Almost feels like work having to drink it. I've drunk Black Sheep in the past, and despite being a good Yorkshire lad, I don't see much in it
3
Roaring Meg
Mu Beta
14.12.07
A wheat beer, hence a pale ginger tone. Lots of hops on the nose, but a pleasing brown-bread on the tongue. Full of country flavours; definitely makes you want to watch a cricket match.
4.5
Whitstable Bay Organic Ale
Roymondo
14.12.07
Nice hoppy aroma, shortlived head, golden in tone. Really can't get my head around the taste. No depth at all, nothing to hold onto. Light and flippant. Refreshing but dull.
2
Isle Of Arran Blonde
Mu Beta
05.01.08
Lively into the glass; honeyed colour is darker than ideal. Too bitter on the palate, although this does develop through into a nicer, rounder flavour. Too gassy, by far, as is evidenced by the sticky spot on my kitchen floor.
2.5
Wyre Piddle Brewery's 'Piddle In The Hole'
Mu Beta
05.01.08
A nice even pint. Pours beautifully. Lovely country hops aroma. A complex taste, slightly dry and papery with a little fruit. Drinks easily with little offensive aftertaste. Delightful!
5
Adnams Broadside
Mu Beta
05.01.08
Pours nicely, a deep chestnut in the glass. Massive knockout flavours of deep, dark, roasted malt, like licking a carpenter's fingernails. A little bitterness to follow, but not off-putting. Makes you want to fall asleep in front of a fire with a Bing Crosby record on. Very much a winter warmer if ever there was one. Sets a bag of crisps off a treat, but a little too rich for everyday consumption.
4
2legs
14.12.07
Raisins, sultanas, slightly smoky in the back of the mouth, rich plum pudding or Xmas pud, tangerine but ever so slightly, a real fire and a large comfy armchair with a old slightly worn woollen blanket, bare feet rubbing together...
5
Bob Stafford
05.01.08
Looks wonderful a nice golden brew, tasts mellow and malty, warm after glow. Sparkles on the tounge. Strong and warming, with a rich character.
4
Skankyrich
05.01.08
Very solid winter beer, tastes almost woody. Glowing reddish-brown with a lovely, rich and long-lasting head. Aroma is fairly standard but flavour is full, sweet and long-lasting.
5
Average
4.5
Marston's Pedigree
Mu Beta
05.01.08
It's smooth in a way that 'Creamflow' beers only dream of. It's well-rounded, slightly hoppy on the nose, and slightly sulphurous on the aftertaste. It's got bags of interesting aromas, from a bit of roast chestnut, to some tangy orange-peel, to old wood and fire-sides. By 'eck, I enjoy drinking it.
5
Bob Stafford
05.01.08
Inspiring aroma and fine colour in the glass. The taste is like a symphony builds gently to a big full finish, then lingers gently slowly fadeing. This brew is hard to fault and just as hard to better. More pedigree than a Crufts winner.
5
Roymondo
05.01.08
A bit pikey on the nose and quite a bitter initial greeting. No depth. Hangs around like a line of speed at a coke party. Lightweight, well intentioned, but ultimately underachieving. Probably refreshing on a summers day but this is early January.
3
Skankyrich
05.01.08
I'm not convinced you have to play with a great formula to make a good beer exceptional. You just have to do the basics well. So if the aroma is fairly standard but perfect, the taste grows, excels and fades just as you want it to, and you place the glass down with a happy grin, it's done it's job. Get everything perfect and you don't need citrus tangs or excessive malts.
5
Average
4.5
Jenning's Snecklifter
Roymondo
05.01.08
A rich aroma which don't tell the half of it. Proper chocolate going on there, leaving a pleasant bitter tang on the palate as a surprisingly light trail slips down the throat. Superb.
5
Bob Stafford
05.01.08
Good strong warming beer, strong and fruity, a deep rich flavour not to strong on the tongue, a deep very dark brown. Slight and persistant aftertaste, a warming ale with lots of character.
3
Mu Beta
05.01.08
Deep, dark colour. Deep, deep, dark flavours. Dark, black flavours. Coal black flavours. Dark black, coal black, slow, sloe black, jet black, crow black. It's steady enough drinking, but if I wanted to enjoy it I'd have to be either Welsh or a history teacher. Big, thick and miserable - it's like Scrooge was distilled into a pint glass.
2
Average
3.3
Wells John Bull Bitter
Mu Beta
05.01.08
Good coulour pleasing fresh clean aroma. Good clear taste building gently as you drink, a finish that just misses the point. A good honest every day beer that is far from disapointing.
2.5
Holt's MapleMoon
Mu Beta
05.01.08
Exceptionally well-pouring pint; rounds off to a neat head with a gingery colour. A fresh, invigorating fragrance of sea air and young hops. Drinks smoothly; a bit leathery on the tongue, but dissipates quickly in clouds of lemon drops. No real aftertaste; a very pleasant brew.
4
Bay's Brewery Gold
Mu Beta
05.01.08
As the name suggests, a golden beer from Torbay. It is nice and light with a hoppy tang, but sadly not quite full enough to be a seriously good ale. The flavours are all there, but none are strong enough to make this a first choice at the bar. My old gripe with poor, gassy bottling raises its head once again; pleasant but unremarkable.
2
Wychwood's 'Bee Whych'd'
Mu Beta
05.01.08
A honey'd beer, says the bottle, and it darn tastes like it too! A really smooth, sweet taste, although not an unpleasant one, complements this pale, gingery beer. It's almost enough to make you get stuck down a rabbit hole. Beers like this really need to steer away from their 'novelty' niche, and promote themselves as fine, crisp, summery brews. A delight to pour.
4.5
Bateman's Victory Ale
Roymondo
05.01.08
Fairly rich greeting, not much in the way of a handshake. Nice enough, nothing special, inoffensive but I wouldn't lend it a tenner.
2
Stouts and Porters
| Stout/Porter | Taster | Date | Sampling Notes | Rating |
| --- | --- | --- | --- | --- |
| Titanic | Skankyrich | 14.12.07 | A stout that ticks all the boxes without excelling. Heavily roasted without crossing the line into 'burnt', it has a classic stout flavour without really offering anything to stand it out from the crowd. The only stand-out quality is the rich and hoppy nose, but that's not enough. Worth a try, but good rather than exceptional. | 3.5 |
| O'Hanlon's Port Stout | Skankyrich | 05.01.08 | The lovely thing about the addition of port is that it just sweetens the burnt middle tones, making it very easy to drink, and it becomes more of a classic heavy porter than a full-on stout. It's silky-rich, and perhaps the only criticism is that it doesn't linger in the mouth quite as much as expected. | 4 |
Ciders
Cider
Taster
Date
Sampling Notes
Rating
Thatcher's Single Variety Cox's
Mu Beta
14.12.07
Pours nicely, some lingering head bodes well for carbonation. Worrying yellow colour best described as 'afternoon urination'. Inoffensively medium, lingering dry flavour balanced with a slightly tongue-curling sweetness.
3
Weston's Premium Organic Cider
Roymondo
14.12.07
Nicely golden, lightly fizzy, quite sweet. A little gloopy. The sweetness grew during the pint, and a point was deducted.
2
Skankyrich
05.01.08
Sweet, bubbly p***water. Avoid.
0.5
Weston's Vintage Cider
Bob Stafford
05.01.08
I like this one golden in the glass clean bright aroma, well balanced flavour from the first sip. A nice traditional flovour with a gentle sweet after taste.
4
Wychwood Green Goblin
Mu Beta
14.12.07
Lovely dark oaky colour, not too much gas. Extremely smooth, dry flavour. Actually might be quite nice warm. Slightly sulphurous aftertaste. Certainly a cider to go with food.
3.5
Skankyrich
14.12.07
Pours with a huge, excited fizz, and is lively enough in the glass once it's settled. It's got enough of the Westcountry scrumpy tradition in it for it be authentic, but it's been sweetened a little too much for it score full marks. The bottle says medium dry, but for me it's a medium sweet.
4
Coma and Join In...

Please see the Horse and Groom's main bar for details of our next tasting session.
1Known elsewhere in the world as 'piss-ups'.