The h2g2 Poem
Created | Updated Jun 9, 2004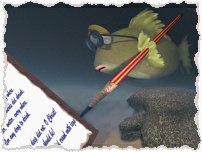 Exam Fever
The exams are coming.

Tick tock tick.

The folios are in, the deadlines here

The doom of study that dreaded fear.


The exams are coming

The day is close,

The hall is calling; the papers have your name.

Invigilators arrive so cheats can't hide their shame.


The exams are coming

Run, run away

English, Maths, Science there all the same

Waiting at the desk. pen in hand

Those exams are coming to drive you mad


The exams are coming, and it's almost too late

The hands on the clock tick to that vile date

You think you know your subjects so well

Till you wish the books would burn in hell


The exams are here!

Help! Help alas!

Oh it is such a dreaded task

To sit in that hall with the sun shining bright,

All you wish is to run out of sight


The exams are here

So just relax, everyone says they know you'll pass

Revision was done with diligence and care,

Yet you still hope the paper just wont be there.

Till the world spins and it all falls away

Its exam fever and its here to stay.