Entertainment for Insomniacs
Created | Updated Jun 9, 2004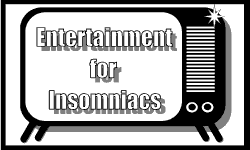 I'm back. It's been a while, but it's finally time for the second edition of this truly brilliant column....
This week: Jack & Jill, The Tonight Show with Jay Leno
In my last column, I sung the praises of Off Centre and slagged off The Chris Isaak Show from Channel 4's Saturday night/Sunday morning schedule. Well, this week I bring your attention to the jewel in that night's programming, the American comedy-drama Jack & Jill. Set in New York this is about a group of six friends, with interconnected romantic relationships. But this is no Friends, as the characters have to deal with real problems - unemployment is seen to sap at characters' personalities, arguments aren't forgotten with a joke in the next show and relationships break up not in comic ways but in heartbreak.
The central premise of the show is the relationship between David 'Jill' Jilefsky and Jacqueline 'Jack' Barrett, who meet when she moves into the same apartment building he lives in. Jill shares his apartment with medical student Barto Zane (Justin Kirk). At the beginning of the first series Barto is in a relationship with dancer and actress Audrey Griffin (Jaime Pressley), who shares an apartment with Jack (you following this?). Mikey Russo (Simon Rex), an old school friend of Jill and Barto, works in a bar called the @bar (pronounced, unsurprisingly 'At Bar'. Mikey finds himself at the start of the series in need of a new roommate, and ends up opting for Elisa Cronkite (Sarah Paulson), an ex-girlfriend of Jill's who works with Jack.
Throughout the series, which lasted 32 epsiodes - 19 in the first series and 13 in the second, we get the evolution of these relationships and friendships - Barto and Audrey fall out and break up when Audrey goes to LA to make a film. Jill, having resigned from his job with a toy company, works as a freelance photographer before going into business with Mikey in buying the @Bar. Jack & Jill have a constant on-off wedding possibility, and their very relationship is on and off thanks to Jack's ex-fiance in the early episodes.
Unfortunately this current run of the 32 episodes on Channel 4 is coming to an end. It's the second time channel 4 have broadcast the series, and they may well do so again, and Sky One regularly broadcast episodes as well. The last two episodes are coming up in the next two weeks and I'm going to mention this show again sometime - if it gets another runout on terrestrial TV, I'll let you all know.
One of the all-time classic late-night TV experiences in Britian is BBC2's treatment of Seinfeld - the classic US sitcom was broadcast at times varying from 11.20 pm to 1am, sometimes in double or even triple bills. This show was one of the most popular US shows ever, but unfortunately the Beeb didn't think it would appeal to primetime viewers, even on BBC2. Larry David, who co-wrote the show with its star Jerry Seinfeld, now stars in BBC Four's Curb Your Enthusiasm. Seinfeld himself, however, is still a highly popular stand-up comedian, and his appearance on a repeated Tonight Show with Jay Leno on Monday night demonstrated why.
Seinfeld's take on subjects such as politics, telephone etiquette and kamikaze pilots was irreverent and seemingly unconnected, but the links between the subjects were impeccable so that it just seemed to flow naturally.
Some great news was revealed by Seinfeld when he was interviewed by Leno: the issue of Seinfeld DVDs will finally start in November this year. And they'll have to get through quite a few.
Now, Jack & Jill and Off Centre are both reaching their conclusions on Channel 4, which makes me hopeful that they'll finally resume their broadcasts of The Drew Carey Show. But then again, they might just extend their late night live coverage of Brand New Exhibitionists Having Sex in a Jacuzzi or 'Big Brother' as some people call it. What a wasted late night opportunity.
Jack & Jill is on Channel 4, Saturday night, 4.35am. It's worth taping, really.
The Tonight Show is on FTN, weeknights at 10pm and 1.40am, and weekends at midnight.
Entertainment for Insomniacs Archive