Entertainment for Insomniacs
Created | Updated Apr 28, 2004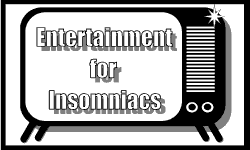 Late night television. To the channels it's just something to fill the time before the breakfast news. To students, it's a vital tool. It is one of many displacement activities available to delay the writing of essays.1 For anyone unable to sleep, it might help.
But what is this crap? That's the important question. Which is the purpose of this column - explaining and reviewing the delightful array of programming available between the hours of midnight and 6am on the 'freeview' digital service. The days I give as broadcast dates are the day on which they are listed in TV listings. So, Saturday night is, in fact, first thing Sunday morning, and so on.
This week: The Chris Isaak Show, Off Centre, Undeclared
Generally, I love Channel 4's late night output. Shows like Jack and Jill, Off Centre, Drew Carey, Foreign Football, it's great. However, whoever suggested the channel pick up The Chris Isaak Show has some explaining to do. I can only assume that, over its three, or maybe four US series, it has improved greatly on the first episode, broadcast by Channel 4 on Saturday night. Because this first episode was tripe of the first order.
Now, I'm quite partial to Isaak as a singer - his country-rock songs such as Cept The New Girl and Wicked Game are reminiscent of Roy Orbison and I actually own one of his albums. He's clearly not a bad actor, he has some films to his name, but it is a misguided belief on the part of the producers that he could carry an hour-long comedy-drama based around the central conceit of -
get this - him playing himself in a fictional surrounding, and hilarity ensues.
Now, Seinfeld featured Comedian Jerry Seinfeld as comedian Jerry Seinfeld in a similar concept, albeit one kept down to 30 minutes rather than an hour, but the difference is Seinfeld was funny. The Chris Isaak Show's just bizarre - the plotline of episode one has his girlfriend spitting on him during sex, his drummer and his psychologist mother giving him advice, his female manager taking an attractive young man with her to a meeting with a gay studio executive and Chris seeking enlightenment from a naked woman on a merry-go-round. Yet, somehow, this wasn't funny. It should have been - these situations have massive potential for comedy. But everything fell flat. Seinfied and Curb Your Enthusiasm2 use the idea of building a fictional world around the genuine career of the star, but they do it well. Isaak's producers clearly thought they could make this work but they didn't. It seems like one huge promo for Isaak's music, which he breaks into at times for no reason. I can only assume that the show gets better, based purely on the fact that it still seems to be going in the US. It took three years for the first series to reach us in the UK. It would have been so much kinder to us if it hadn't.
The theme tune to The Chris Isaak Show appears to be the star's own biggest hit Wicked Game. I, for one, am very grateful that the producers of Off Centre, another of Channel 4's Saturday late night American imports, didn't take the same approach. Why? Well, because Off Centre's star is, quite surprisingly, none other than British former singer and soap star Sean Maguire. Maguire got his break in BBC Children's show Grange Hill, before graduating, like so many of Grange Hill's cast, to BBC1's flagship soap Eastenders.
Maguire's presence as the star of a US sitcom astonished me when I first watched Off Centre, but the show is actually good, despite the presence of a 90s singer-actor (showing The Chris Isaak Show that that is possible).
The central premise of Off Centre, which Channel 4 show in double bill instalments is that British stud Euan (Maguire) and his American former Oxford roommate Mike (American Pie's Eddie Kaye Thomas) share a loft apartment in a snazzy block just off Centre Street (hence the show's name) in New York. The other central character are Chau (Another American Pie actor, John Cho), a friend of Mike who works in a local Vietnamese restaurant which functions as a setting for some scenes in a similar manner to the diner in Seinfeld and the Coffee Shops in Friends and Frasier. The two regulars beside these are Mike's long-suffering girlfriend Liz (Lauren Stamile) and Grammy-winning wrapper Status Quo3 (Jason George), who lives next door to Euan and Mike
As the American Pie connection might suggest, this sitcom does contain some gross-out humour, but not much of it. Mostly the set-ups are merely funny without threatening to offend. For example, Saturday night's first episode concerned Chau moving into Mike's room temporarily, with Mike moving out, so that he and Euan could get a break from each other. Chau sets a romantic tone in the room when he takes a girl in by lighting candles. He promptly sets fire to the
room and burns all Mike's belongings, and the show follows him and Euan trying to repair the damage. And Chau uttered the line 'well how was I supposed to know breathing fire was dangerous?'. The second episode saw Euan trying to separate Status from his ever-present posse in order that he could hang out with Status at rap star parties etc. He then ends up being treated as Status' bitch while Mike and Chau get the
posse back together. At one point Euan refers to a party at P Diddy's house, to which Mike responds
'How was Puff Daddy's Party?'

Euan: 'He's not Puff Daddy, he's P Diddy. In fact, now he's changed his name again to Sir Diddles Mc Pee-Pee'.

A show with good lines, funny actors and only slightly hackneyed storylines. It maybe plays on its American Pie connections too much, especially in the episode with Jason Biggs, but it does emerge as a good sitcom. Why, then, it was cancelled in the US during its 2002 second season I have no idea. Apparently Sean Maguire and Jason George are now both in the TV series Eve starring the rapper of the same name. What is it about US comedies and singers, eh?
Sean Maguire is not the only former star of a BBC children's drama to have reached US sitcom-land in a series which got cancelled before too long. Charlie Hunnam, a Geordie who starred in Byker Grove as a child, and then went on to appear in popular drama Queer As Folk, can now be found, on Wednesday and Fiday nights on ITV1,
trying4 to do a London accent as British student Lloyd in Undeclared, a sitcom set in a university hall of residence.
It seems to me that students are a fine subject for situation comedy - people who don't know each other, forced together. So why is it that the only high profile example of a sitcom using this setting is The Young Ones? And that was so anarachic I'm not sure it mattered where it was set.
Undeclared, which was cancelled after just one series, is from the same producers as the earlier Freaks and Geeks, which was made in the late 1990s, and set in an 80s high
school. Basically, the show is the lives of seven students and the recently divorced father of one of those students.
Unfortunately, I forgot to watch Undeclared this week, so can't review this week's episodes, but look out for a review next week. I can say, however, that Undeclared is yet another cancelled show that is superior to Chris Isaak and this one is a bit of a belter even when compared to shows which are good.
The set-ups are genuine and realistic (setting it apart from The Young Ones already), the actors have great timing and chemistry - the producer apparently cast the actors before writing the pilot script, so that he knew how they worked together. The unfortunate decision to cast Hunnam as a cockney when he's a Geordie does mean that his accent grates to the English viewer but, once that is fought past, he is a good, realistic, character, as are the other main characters.
As I said, full review coming next week, but remember to watch.
Next week: Undeclared, Grounded For Life, Jack and Jill
This week's listings
Undeclared is on ITV1, Wednesday night, 2.10am and Friday
night, 1.10am.
Off Centre is on Channel 4, Saturday night, 2.45 am.
The Chris Isaak Show, should you really want to subject yourself to it, is on Channel 4, Saturday night, 4.20am
Also recommended by 'Entertainment for Insomniacs'
Grounded for Life, ITV1, Monday night 2.20am, Thursday
night 3.15am
Jack and Jill, Channel 4, Saturday night, 3.35am
The Late Show With Letterman, ITV2, weeknights, anywhere
between 1.25 and 2.20am on different days, 5.10 am daily
The Tonight Show With Jay Leno, FTN, weeknights, 1.40am
Up All Night, every day, 1am, BBC Radio Five Live (it's
available on digital TV, so it's TV, alright)
Foreign sport - most nights, Channels Four and Five, times
vary.
Weapons of Mass Distraction, Saturday, ITV1, 2.40am
Entertainment for Insomniacs Archive
1As is using h2g2, incidentally.
2HBO and BBC Four show written by and starring Seinfeld co-writer Larry David.
3No connection to the ageing British band.
4And for the most part failing.