The h2g2 Poem
Created | Updated May 4, 2004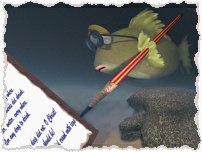 Oh mocking bird
Oh mocking bird.

Oh cruel fate.

Oh love, oh agony oh pain.

Oh joyous woe in my heart again.

How can anyone speak of hate?

When love sweet love stands by life's gate?

Too shy am I, too young too green.

To know my heart oh tis a dear sweet thing.

Now love is gone and all that remains.

Is cold silent thought a ghost of pains.