The h2g2 Poem - Hikaru Poet
Created | Updated Apr 28, 2004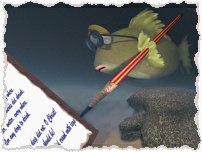 Vietnam Memory
"IT'S OVER"

screamed the May 1, 1975 Stars and Stripes

to my 14-year-old eyes in Tokyo,

with a blood-red headline

over that embassy rooftop photo.


"It ain't over,"

mumbled a thirty-something veteran

a decade later as I tutored him

at a restaurant study session

while he tried to finish college,

knowing the next loud noise

would send him diving under a table.


"It ain't over,"

whispered the M.I.A./P.O.W. flags,

fluttering everywhere

under the red, white and blue.


"It ain't over,"

cried the wall of names, that big black gash

that brought the wound home to the Beltway.


"It ain't over,"

protested the Hmong diaspora,

mountain people of Laos that helped us then,

now scattered like so many dominoes,

some transplanted to our amber plains,

others still waiting to cross the shining sea.


"It ain't over,"

complained a weekend warrior,

learning that her 12-month assignment to Iraq

just got extended,

so she needs to reschedule her wedding.


"It ain't over,"

argued the American voter,

as George and John and their people

pitched papers and spun tales

about what they did and where they were

thirty-some years ago,

testing our Vietnam memory.


Nope, I guess it ain't over.

The Stars and Stripes don't always get it right.

But the rest of the world could've told us that

if we'd been listening.

War and Protest - the US in Vietnam (1972-1975) - The final entry

in a series on the Vietnam War.