The h2g2 Poem
Created | Updated Nov 5, 2007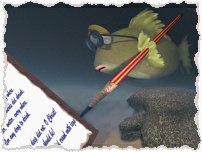 The Legend of Sir Toby Belch

Look out for the toad!

Don't crush his abode!

Said my mom as we planted our beans.

Toads bring you good luck

I don't want you to tuck

That amphibian into your jeans.

Why he's an old friend

Thick and thin 'til the end,

If you promise not to squelch,

I'll tell you his name

It might bring him fame,

I call him Sir Toby Belch.

Each year in the spring

In the garden he'll sing

His toadly little song through the night.

So give him respect

It's what I'd expect

You to do because it's what's right.

Each day when I'd roam

In the yard 'round my home

I'd look for the little brown guy

Sometimes he'd be there

By the garden or where

There were plenty of bugs flying by.

One of the worst chores

That made my hands sore

Was seeing the lawn was all mown

I was just a lad

And I was a tad

Too small for the mower we owned

On that fateful day

As I laboured away

Cutting grass with all of my might

I'd gasp and I'd sweat

It was hard not to let

My mouth open for air and respite.

When the mower went thump

And some sort of lump

Of mushy stuff soared 'tween my lips

All that I could find

When I looked behind

Was Sir Toby from toes to hips.

The shock made me swallow

And I felt real hollow

Even now it is hard to get by it.

It's not every day

I can honestly say

That toads are part of my diet

My mom noticed one thing

No more toadly singing

And said that she wished he'd return.

And I said that perhaps

He's visiting some chaps

Intending more songs to learn.

I added I too

Missed him a bit, yes it's true

Although I had not caught the harmony.

He seemed a good fellow

And I feel I must tell you

In a way he'd become a part of me.