The h2g2 Poem
Created | Updated Dec 10, 2003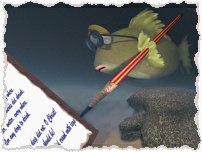 Come Here You

Fifteen years ago you suddenly realised

You were becoming old - and despite

All you'd done, I really am an adult.

Time to get frightened. Frightened?

You were wetting yourself.

All that terror.

When I'm old and weak, she'll treat

Me as I did her, when she was a child.

She'll shout at me as I did my own mother.

She'll strip my dignity and laugh at my fears.

I'll have to eat what SHE wants me to.

I'll be hungry scared and cold.

And are you? I don't think so.

Your house is warm, you eat good meals

Of your own choosing. You drink your Gordons

As often as you'd like - and your wine, too,

From lunch time on. You inhale your

Superkings and complain about your sinuses.

I catch your eye sometimes, and smile to myself

You don't understand benevolent indifference, do you?

I can't be asked to reassure you on something

That makes you inarticulate with terror, can I?

I'd be far too thick to understand. Drink your gin, mum

And have another fag. You'll feel a lot better afterwards