The h2g2 Poem - sinistercoincidence
Created | Updated Dec 4, 2003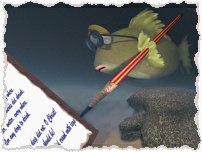 Year

So

Am I your no-good nutmeg girl

Or is one of the cats to blame?

You must see I'm just a hopeless swirl

From me no more than smoke unfurls:

A firework past its flame.

What have I done to you?

Am I a passer-through

Or did my vodka bottle hit you on the head?

Already it's so difficult to tell

The whos and whys and hows of lead and led but

Know I always meant it to be true-

I treasure all those pretty things you said.

Follow-me-not along and down this path

Although you know I'd love to hold your hands

There are hidden currents:

Even in warm baths they pull me

From this perfect magic land.

But doom is not your destiny, dear friend,

You must go back; be one of them and sing of trees

There is no need for you to share my end.