Swivs Travels: Uganda 2003 - Part Eleven
Created | Updated Dec 4, 2003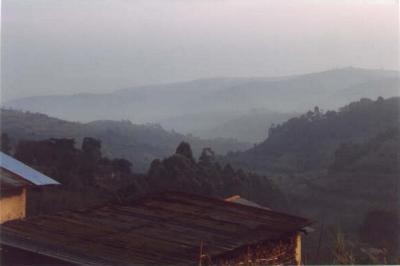 Those of you who have been around and reading the Post for the last three years may remember that in 2000 I took myself off to Africa for the second half of my Gap year. This year I returned.
After our visit to Nyamata we began to return to 'normal' travelling. We took piki-pikis (the motorbike 'taxis') from the bus station up into the city. Perched side-saddle on the back of a motorbike, clinging on with my fingers for dear life, naturally without a helmet, we hurtled up the hill swerving round any obstacles - static or moving. I couldn't help thinking, 'Mum's going to have a panic attack when she hears about this.' It honestly never occurred to me not to mention it - by that stage of our trip even my parents were getting the mass emails I was sending to people, and the 'life-in-your-hands' transport was just too much fun not to tell people about. Oddly enough, she's not said anything about it to me. I know she's not got over her tendency to worry, so I'm beginning to wonder if my dad simply didn't show her that bit of the email.
With only four full days in the country we were going for a whistle-stop tour of Rwanda, heading from Kigali to the Nyungwe rainforest in the south-west to see if we could spy some more Colobus monkeys or exciting birds, then on to Cyangugu on the border with the Democratic Republic of Congo, before heading backwards to Butare, the university
town in the south, and on up to Uganda. Unfortunately we didn't have the time or money (or fitness) to make it to see the gorillas in the Parc des Volcans. This meant that we spent a lot of time on the road - tiring, but a wonderful way to get a glimpse of the country. And we saw a lot, as we stared resolutely out of the side windows of matatus so we couldn't see what might be coming at us head on.
Before leaving Kigali we bumped into another tourist at the forex bureau who made us feel positively worldly-wise, experienced and sane. He was probably in his forties, and wanted to know if you could get a bus from Kigali to Bujumbura, the capital of Burundi.
'Well, you can technically get a bus to Bujumbura, but it's not a very good idea.'
'Why not?'
'Well, Burundi's not very safe'
'Oh, no?'
'Well, there's this civil war and it's even less safe in northern Burundi than in Bujumbura, and the rebels are known to target buses
and tourists'
'But you can get there'
'Oh yeah, but you might be better off going through Congo, or down to Kigoma in Tanzania, and up to Bujumbura by boat on Lake Tanganyika.'
'But there is a bus from Kigali to Bujumbura?'
'Yes.'
We gave up. And our sense of sanity vanished fairly quickly the next day when we got in a matatu to Nyungwe. You are crammed four to a seat as a matter of course in Rwanda, but this turned out to be A Good Thing, as it meant that we didn't slide around so much as the bus swung round the mountains. It took longer than usual for us to get going -
not because the matatu didn't fill up, but because the driver and conductor went AWOL as soon as it did. To pass the time Fi and I examined all the things you would never want to buy that were being hawked around, and were sorely tempted by a Paul Kagame calendar. (As a point of interest - everyone in Rwanda who wears glasses has the same kind - small, slightly squared - and I confess to being slightly curious: do they all have these glasses because Paul Kagame wears them; or does Paul Kagame have these glasses because they are the only
ones you can get in Rwanda?)
I don't think the matatu went under 100km/hour at any point on our six hour journey, and once we hit the Butare-Cyangugu road, with the
hills getting higher and higher - surely reaching 'mountain' status by the time we reached the forest - it was a fairly terrifying experience when we thought about it. So we tried very hard not to think about it. I looked assiduously out of the windows on either side, gazing at the hills, in many cases terraced and farmed up to the top in a crazy patchwork of fields, and avoided noticing how much time we were spending on the wrong side of the road. One vehicle coming the other way at the wrong moment and we would have been tumbling down the mountainside. Although, given that most of the vehicles were driving like us, there's probably a fair chance that we would have missed them, both vehicles on the wrong side of the road.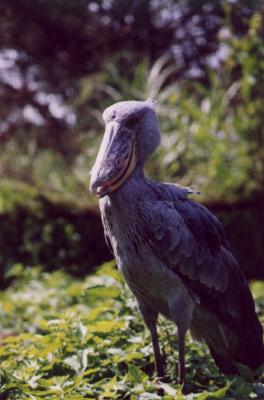 Nyungwe is a tropical rainforest - contiguous with the forests in Burundi, and once with that of Congo - and it's home to vast numbers
of primates and birds. It was rapidly becoming clear that to see the most of Rwanda's wildlife, let alone the rest of the country, you would need your own 4x4 and a good month to travel in, and be prepared to spend a lot of time hiking up and down hills.
We were travelling 'light' and didn't have any camping equipment, which meant we ruled out staying at the ORTPN (Rwanda's tourist association) campsite in the heart of the forest. We aimed to stay in a
guesthouse that our Bradt guide said was on the Gisakura tea estate just outside the forest and was cheaper than the ORTPN guesthouse, and nearer to a patch of 'relict' forest which was home to a troop of Colobus monkeys. We loved and trusted Bradt and found it a blessed change after the Lonely Plant in Uganda experience, and we had checked with the tourist office in Kigali that the guesthouse was still there.
When we got out of the matatu, still in one piece, we were inevitably
surrounded by the workers from the tea estate who wanted to know where we were headed. They assured us, in our complicated English-French
communications, that there was no guesthouse on the estate, only the ORTPN one two kilometres down the road. We decided that we weren't
up to hiking into the estate with our bags only to discover that there was no place to stay - the sign for the estate made no mention of the
guesthouse, and we trusted the locals, so we opted to head on. We found
ourselves with an escort once again, who wanted to know what we had been doing, and guided us all the way to the ORTPN guesthouse, where they deposited us.
The guesthouse, though exorbitant by our African standards at $10/night, was wonderful. We had a room in a little brick cottage in the grounds, of which we were the only occupants, and which had a log fire just to make us feel cosy. We arranged to go and try and see the birds and monkeys on the tea estate before breakfast the next morning and settled down to relax. I'd taken my braids out the night before in Kigali - Fiona had taken my penknife and hacked them all off just below my own hair, and we'd been able to pull them out very easily - the benefits of having short hair - in about six hours - so I was overjoyed by the sight of the bath and a chance to wash my hair properly for the first time in 6 weeks.