In Other Words
Created | Updated Dec 4, 2003


Happy birthday to you! Happy birthday to you! Happy birthday dear The Post... Happy birthday to you!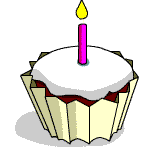 Yes, despite the harsh elements, demanding deadlines, and angry internet Gods, your Post has endured four years as everyone's favourite entertainment and information station. A round of applause to the countless editors, contributors, artists, and readers that have helped make The Post possible. It started... as a dream. (I'm assuming.) Which blossomed into the thriving periodical it is today. New York Times? Wall Street Journal? What?! Step aside you measely distributed-to-millions-of-newsstands-worldwide magazines and newspapers... The Post is steppin' up!
My only regret is that I joined the ranks so late in the game. What an honour it would have been to be a part of the original Post team. Frankly, I don't know how they managed to put out a decent edition without me! (har!)
But, I'm glad I'm a part of it now. I know that when I'm a world-renowned newspaper columnist in the future, so filthy steenking rich that I frequently blow my nose on various large bills of currency, if someone were to mention the h2g2 Post to me, I'd certainly say, 'The h2--what?' And it's that kind of life-long recognition that this great place deserves for giving me my start. Who cares if it's a volunteer duty that hits me at about six p.m. on each Sunday, with a 'Crap! I have an article to write!' Then occupying a good two hours of my (semi)precious time and making me pretty bl**dy angry 'cuz I SUCK at GuideML?! It's WORTH IT!
On a more personal and sentimental note, I'd like to thank my wonderful editors, who quite frankly make all this possible because they keep on reminding me that you silly Brits spell favourite with a 'u'. Particurally, Shazz. Shazz, dahling... I love you! *sniff* Without you and your great words of wisdom, (Hey DZ... I think you should try to get your article in at least 15 minutes before the next Post comes out, K?) I'd be lost. Wandering about in the proverbial forest of lost-ness, with nothing but my broken compass of failure to guide me, kept company by my feeble-minded K-9 companion of self-doubt. You... YOU are my road map of assistance. My candle of guidance, and my travel-size bag of roasted peanuts of reassurance. *bow*. Thank you, thank you. I want you to adopt me, and if I die, I'd like my urn on your mantle. Ha! Joking!
Birthdays are great. Especially when celebrating the 4th one of this amazing newspaper with an astounding tendency to bring such a vast number of diverse people together on one common ground - the love of all that is hootoo. With all the zany stories, witty columns, entertaining cartoons, clever poetry, and insightful editorials The Post delivers to you, the reader, bright and early every Thing in time for your morning tea, I'd say that good ol' Douglas Adams would have definitely approved.
I could never get the hang of Thursdays... until I found The Post.
Always and Forever your Grateful Little h2g2'er,
Darth Zaphod