The h2g2 Poem
Created | Updated Nov 5, 2007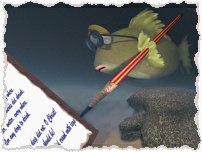 The Amazing Journals of B'Elana

Moonhogg throws his socks around,

They hit the sofa, then the ground.

They roll around the floor a while,

To find them all is quite a trial.

But they turn up in Bella's thread

When she has left and gone to bed

So MMF will wash them right —

They need to be the brightest white —

To wear to work with cutest shorts

And white lab coat he daily sports

With hairy legs just hanging there —

There's just some things we shouldn't share!