Talking Point: What Do You Want For Christmas?
Created | Updated Nov 20, 2003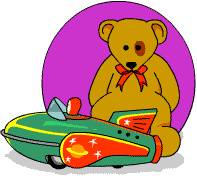 Yes, yes we live in a world corrupt to its very core with rampant profiteering, unfettered globalisation and a general, ubiquitous, legitimised greed that gnaws away at the very soul. But that said, what do you want for Christmas?
Difficult one this. Do you come across all polite and holy and say 'Oh nothing, nothing, you just being here is Christmas enough for me.' Or do you go for the jugular, Gordon Gecko-style, and make it clear that the extensive, accurate, itemised Christmas list you're presenting better be met - in full - come the morning of the 25th.
Christmas, eh. What a palaver. 'What do you want for Christmas'. It's a sort of post-post-post-modern spiritual cry for help. It used to be, 'How am I best able to spend my precious allotted time on earth under the watchful eyes of God?' Now it's 'What do you want for Christmas?'.
World peace?
A new leg?
Sexy pants?
A skate board?
The Complete Office TV Series on DVD?
A leather jacket for your pet hamster?
Yer flippin' two front teeth?
What do you want?
Please use the conversation threads below to announce to the world what it is exactly you WANT FOR CHRISTMAS!