CROSSING THE BOUNDARY
Created | Updated Mar 1, 2004
Alice Jenner's Excellent Research Notes (Contact Details Excluded - Ed)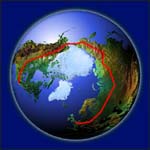 Presenter: Richard Creasey

Producer: Mark Rickards

Researcher: Alice Jenner

Tx: March 2nd and 9th 2004



FOCUS: Why, almost 140 years since the boundary across the Bering Strait was created, is there such a sharp contrast between the two communities living on either side?

Juneau: 17/10/03 – 18/10/03
Larry Persily, Journalist – Energy expert or Local Attorney Joe Geldhoff, can cover energy or Tim Brabner, Energy expert, journalist at Alaska Journal of Commerce in Anchorage

Jeff Berliner, former journalist - general overview NB: based in Anchorage

In Nome: 20/10/03 – 27/20/03Jim and Bernadette Stimpfle – cultural and social background, ferry project, friendship flights
Charlie Johnson, Head of one the Siberian Yupik tribes and Chief US Commissioner on the Bering Strait Regional Commission – cultural history, environment, enforcing the boundary rules
John Wahgiyi, native and working on a Beringia project – cross boundary travel and projects
Leigh Selig, Deputy Superintendent - "Beringia" US National Park Project, environment and culture.
Nancy Mendenhall, Director Alaskan Friends of Chukotka Society – cross boundary projects
Chris and Jim Row, owners of Bering Air – travel and tourism
Nadezhda Sudakova, Native of Provideniya – Chukotkan history

Former Mayor Leo Rasmusin – social and political history, cross-boundary relations
Arthur "Guy" Martin – social history.

Seattle 27/10/03
Dr Peter Schweitzer, Ethno-anthroplogist – social and political history of Bering region. Interview set up in Seattle on 27/10/03

To be picked up later…
Alexander Borodin, Advisor to Governor Abramovic
John Mann, Sibneft

CONTACTS:

NOME:

Victor Goldsberry, owner of Chukotka-Alaska Shop, 514 Lomen Ave, Nome. Victor's shop sells traditional arts and crafts from both sides of the Bering Strait. He was recommended by the Nome Nugget and passed me a huge list of names of people living in Nome with relatives on the other side of the Strait. Interesting man, but with a slow delivery. His wife, Nadezhda Sudakova, speaks 3 Inuit languages and is a teacher in her
50s.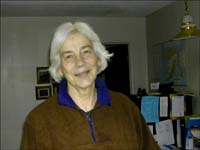 Nancy Mendenhall, head of Alaskan Friends of Chukotka.
Mayor (Emeritus) Leo Rasmusin. Has travelled a lot in Russia and been involved in many exchanges. "charismatic". Spoke to Leo who is expecting your call when you arrive. He says he can cover all the themes in the programme. (From Victor)
Jim and Bernadette Stimpfle. Has organised many cross border activities including the trip which opened the border. Good talker, covers everything from economics, tourism to culture and politics. His wife, who is native is working to promote Inuit knowledge in schools. See brief below. (From Victor)
Chris and Jim Row, husband and wife owners of Bering Air. Have a lot of contacts on the other side. Jim is president of the company and has flown an average of three times a week to chukotka on purely chartered flights! That gives an indication as to how popular cross boundary travel is. He's been making these flights since before the first friendship flight and has flown everyone from tourists, aid workers, politician, scientists, and journalists. He's been recommended as an excellent person to talk to given the remit of our programme and his awareness of the problems with immigration and customs.
Darlene Milligruaq, Has lots of cousins on the Russian side and has had a couple of brothers over there (From Victor)
Vincent Pikonganna Got relatives over on Russian side. (From Victor)
Eva Menadeook. Her grandfather was from the Russian side, they're originally from Diomede, and have been trying to get back. (From Victor)
Leona Mayac. Has relatives on the Russian side. The last time she went over was in 1947 by skim boat and has been unable to travel to Chukotka since. (From Victor)
The Honourable Richard Foster, State Rep' in Nome (From John Walsh at the Governor's office in Juneau ).
Bryan Timbers, legislative aid to Representive Richard Foster.
State Senator Donny Olson , who's an Inupiat, a doctor and runs Olson Air service which had flights to Providenya for a while.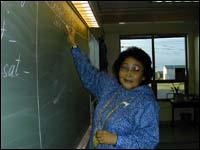 Nadezhda Sudakova was a teacher in Provideniya and became director in a "vocational" high school which took in children with special needs and orphans. They closed that high school about 5 years ago, forcing her to leave for Alaska to find work. She met a man from Nome and is now married and settled down. She's about 55 years old and has a good level of English. She teaches Siberian Yupik to children in Nome. She would love to travel to Provideniya to see the family she left behind, however her passport is no longer valid. She is available for interview.
Anna Gologergan is a native woman living in Nome who keeps in touch with relatives the other side. She hosts people when they come over to Alaska and hears from them what's happening. Most of her connections are church connections. (From Nancy)
Sue Steinacher here in Nome who has travelled to villages over there about 3 years ago on a Park Service grant and has very interesting commentary and slides. (From Nancy)
Arthur "Guy" Martin, is one of the directors on the Bering Straits Foundation, Nome. Recommended by John Walsh (Governor's office) as an expert on social history. The BSF is "An Alaska Native non-profit dedicated to enhancing educational and cultural preservation opportunities for Bering Straits Native Corporation shareholders, their descendants, and the people of the Bering Straits region."
CONTACTS:

JUNEAU:
Contacts are light on the ground here as many of the experts are based in Anchorage. I've been told that apart from being the capital and the seat of parliament not much happens in Juneau and most experts are based in Anchorage where most business and trade takes place.
Governor's office in Juneau
Larry Persily, (oil expert), former deputy commissioner of Revenue and journalist on Petroleum News. I've spoken to Larry and he feels comfortable covering any questions you might have about energy.

Local Attorney Joe Geldhoff The journalist I spoke to says she usually talks to him about marine issues but Larry seems to think he'd be a good energy contact as well.
Anne Sutton . My contact at Juneau public radio says "You could also set up a tape sync with Alaska Public Radio Network in Anchorage although their engineer sounds pretty maxxed out these days".
CONTACTS:

ANCHORAGE:
Jeff Berliner. Former journalist and Russian Trade Specialist with the Alaskan Division of International Trade and Market Development: (Richard's copntact)
Former Governor Wally Hickel, Secretary General of the Northern Forum. Northern Forum deals with political, environmental and economic issues. He's well into his eighties now but sharp as a tack and very colourful. He's been to Russia several times and is deeply interested in trans boundary issues. He will also know a raft of experts on both sides. He lives in Anchorage but he visits Juneau regularly.
Roman Bratslavsky, of Bratslavsky consulting engineers, contact recommended by Elena at Bering Air.
Vic Fischer. Professor, University of Alaska Anchorage, Institute of Social and Economic Research (ISER). Originator of $3 million USAID project to provide Alaska technical assistance to Chukotka. Also former state senator and one of the authors of the Alaska state constitution.
Steve Haycox. A professor of American culture, American West and Alaska at the University of Alaska in Anchorage. He's a cultural historian and is described as the possible "one-stop shop guy you need".
Tim Brabner. Journalist at the Alaska Journal of Commerce. Highly recommended, however on leave and not back till 17th.
Jack Roderick Former mayor of Anchorage, one of the few who's written a book on the oil industry coming to Alaska. (From Ed Bennett at Alaska Journal of Commerce)
Ben Ellis Director of The Institute of the North which deals with indigenous cultures and common issues like reindeer herding and fishing. Hickel's also involved with them.

State historian Joan Antonson with the Department of Natural Resources.
Alaska Conservation Alliance based in Anchorage, may have some energy experts they rely on.
CONTACTS:

FAIRBANKS:
Peter Schweizer
Chair of the Anthropology dept. Says that no one in Juneau does the research we need for the political-social history section. His speciality is ethno history.
Terrence Cole. Historian of Alaska, circumpolar history
CONTACTS:

CHUKOTKA:
Chukotka Regional Governors Office
John Mann Sibneft energy. American
Igor zagrebin Assistant Administrator for the region. Very fluent in English. He is contactable through the museum where his wife works.
Victor Bychov. Used to be the head of the museum before he quit to work with the new travel agency. Speaks good English and has crossed the boundary many times. He works with a small travel agency in anchorage. Contactable through the museum.
CONTACTS:

DIOMEDE:
Patrick Omiak Agood talker and knows a lot about the situation.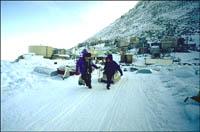 BRIEFING NOTES
Charlie Johnson, Chief US Commissioner on the Bering Strait Regional Commission
Chief U.S./Alaska Commissioner: Bering Straits Regional Commission -- oversees visa-free Bering Strait Native travel. Also Executive Director: Alaska Nanuuq (polar bear) Commissioner -- polar bear co-management authority (Natives and U.S. and Russian gov't); native with family on both sides of the strait.




The Bering Strait Regional Commission governs traffic by natives on both side of border. Natives are the only people on both sides allowed to cross the border without a visa. Charlie is intimately involved in issues with the border: its advent, closing, reopening and governing. He is personally concerned with it as a Siberian Yupik Eskimo himself, as well as professionally responsible for it. Charlie's grandmother was born on Big Diomede on the Russian side. He is also a strong advocate of subsistence which lends him an original point of view on environmental issues. Native views on subsistence (killing wildlife only in order to survive) tend to clash with environmentalists keen to protect wildlife. He has been involved with foreign treaties on the protection of the polar bear.



I haven't spoken to Charlie directly, however Jeff Berliner gave him a glowing endorsement as one of the most articulate people he knows who will be essential to our programme. Good enough for me!

John Waghiyi



Major player in cross-border Native activities; Principal in Siberian Yupik language training on St. Lawrence Island for Chukotka children; St. Lawrence Island Native Council member; Native, family both sides of Bering Strait.



John lives in Gamble on St Lawrence Island, about 35 miles from Chukotka. St Lawrence is about an hour's flight from Nome with Bering air. Many people from St Lawrence travel on their traditional whale skin boats to Provideniya (Nome's twin town and about the same size as it).



John is in charge of a programme funded by the US National Park Service (part of the Beringia project) to bring native children over from Russian villages to St Lawrence to learn their native language. For some reason the language seems to be dying out on the Russian side. (If you want to know why, Michael Krauss at the university of Alaska in Fairbanks is one of foremost linguists in the US and specialises in indigenous languages of the region).



Along with Charlie Johnson, Jeff Berliner recommends John as extremely articulate and among the two most important native leaders in the region. John does occasionally travel to Nome.

Leigh Selig , Deputy Superintendent: "Beringia" US National Park Project


Beringia – refers to what some people call the bering land bridge that once linked the two continents. The national park service beringia programme fund a few interesting projects (scientific, environmental and cultural) across the border. Many are exchanges and they also sponsor an annual two day conference. They have an excellent website at www.nps.gov/akso/beringia.



Leigh Selig, Deputy Superintendent, is based in Nome. The programme director is Bob Gerhard, and his deputy is Peter Richter, both of whom are based in Anchorage.
Leo Rasmusin, Emeritus Mayor of Nome



Rasmusin is available for interview when you are in Nome, if you call him to arrange an interview. He says he has been involved since 1972 with Russian counterparts to organise cross boundary relations.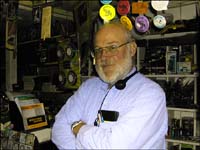 Jeff Berliner thoroughly recommends him as a good interview given his two decades of being mayor and level of interest in boundary issues. The election was also significant because it is the first native mayor of Nome. Nome in turn is significant because it is an old town (almost 100 years) in a relatively young state and is the hub of western Alaska. It's population is pretty close to 50:50 native and white.
Nancy Mendenhall, Alaskan Friends of Chukotka




Nancy is unable to travel to Chukotka since she has no permission and no time to get any. She is also busy during the week 20-27th October, but still available for interview.



Nancy's organisation is trying to develop peace and friendship across the border by breaking down the cold war mentality. She knows the attitude was pretty paranoid on the Alaskan side and they assumed the same was true on the other side although there was little contact. They began by giving them food aid since they were close to famine in Chukotka. The organisation is not a missionary group although there are a lot of missionaries that support her. They try to make it family to family by encouraging Alaskan families to "adopt" a Chukotkan family. There are about 35 families that have adopted now, and they continue to exchange letters, pictures and gifts.



Nancy gets most of her information about what life is like on the other side through the letters that they get from people that live in the remote villages. Most are from just three villages and all are written in Russian. She has a file of quite a few that are translated already. Nancy has a very basic level of Russian although Nadezhda is almost fluent and might be able to read them for you if you like. The letters cover what aid they've received and what they need, but some also go into detail about what life is like and what's happening in their village.
Jeff Berliner


Jeff is a good talker and is well across almost all the themes we want to explore in the programme given his experience as a journalist and working for the government as State Russian Far East specialist.

Nuclear Barges – Floating Nuclear Power Stations: This was an issue which was hotly discussed when Richard was in the region back in 1998. Now it is no longer an issue and neither Jeff nor Larry (the energy expert based in Juneau) have heard it discussed for months, possibly years. The story is, a replacement was needed for the only nuclear power station in the Chukotka region in Bilibino. Bilibino power station supplies 11% of power to Chukotka and was due to close between 2005-7. Nuclear power stations floating out on barges were thought of as an alternative, but when Abramovic was elected his interests lay more in fossil fuels and the idea was dropped. Since then, Jeff expects the power station to stay open past its sell by date, and Abramovic will continue to explore oil and gas prospects in the region and invest in renewable energy.

Energy Different solutions to supply energy to such and remote region with such a harsh climate. Alaskans import diesel at huge expense, but are rich enough to afford it. Chukotka is struggling, despite the efforts of Abramovic to restore a descent living standard.



Jeff is fascinated with the area and says he knows the history of the "melting of the ice curtain" in his sleep. I'm not clear what he's working as now, he calls himself a "free-agent". He used to be the bureau chief for United Press International in Moscow and was around to cover the first friendship flights from Nome. He is well connected with a huge host of contacts for the programme. As a journalist who has also worked in public radio in Anchorage, he can also give a good steer on who are the best speakers.
Peter Schweizer, Enthno-anthropologist



Good talker, can cover most of the themes and gives a real clear over-view.


Peter says he has dealt with many of the themes that we want to deal with in the programme and has recently completed a research project documenting the travels across the Bering Strait.
He is able to cover both historical and contemporary aspects of the area.



The 1867 agreement handing the territory to American had no impact at all. It was only technically part of Russia up to 1867 since there was no Russia settlement that far north. There were only powerful local groups and villages involved in trans-Bering trade.



It was only the Nome gold rush at the close of 19th century that brought the population to the area. There were huge demographic shifts and Nome became the centre of trade and other activities. By 1910 the two sides would have been similar due the influence on Russia of the traders.



By the 1920s there was an extremely strong presence of US traders and there were more people speaking English than Russian. The Russian revolution was significant but only in the mid to late 1920s did it reach the Bering Strait. It meant isolation and the first attempts to control these villages. The Tsar had had no interest in doing anything on the Bering Strait.



Technically people on both sides of BS could visit one another up till 1948, but already by the 1930s it was no longer that easy. There were border guards, soviet officials: things became organised. In 1938 treaties were signed actually allowing local people to visit each other. It is a curious document of good relations between two countries, but also telling that there was a need for such a strange treaty. In sum, the border actually appeared in the late 20s early 30s.



Today, although there are many differences between the communities on both sides, they also share similarities. The Alaskans have more material items, but the nature of life on both sides is not much different. It's a question of what to compare. Now the villages on the Russian side have extreme hardship over last 10 years, since the collapse of soviet union. Peter visited the Russian side for the first time in 1990 before things were really hard. By the mid 1990s it was just a mess.



By 2000 things had stabilised a little bit, Chukotka has a new progressive governor which has made a very positive change.
Back to the Contents page
Go to the BBC Radio 4 site