Swivs Travels: Uganda 2003 - Part Six
Created | Updated Nov 24, 2003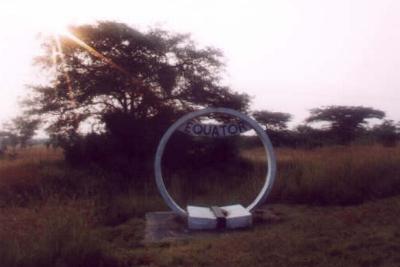 Those of you who have been around and reading the Post for the last three years may remember that in 2000 I took myself off to Africa for the second half of my Gap year. This year I returned.
After spending six weeks in Mbale, it was time for Fiona and I to go travelling. We'd enjoyed our time there, but we were ready to move on and have the holiday part of our holiday, and Fi was slightly more than bouncing at the prospect of visiting Kamuronko.
However, first we were going on a short safari in Fort Portal. We'd got in touch with a small tour company that runs trips in South-western Uganda and arranged two day trips, one to the Semiliki National Park, and one to Queen Elizabeth National Park. So we left Mbale on a Sunday morning in order to cross the breadth of Uganda and visit the 'pretty animals'.
It often seems that there are two kinds of travellers in Africa - the top of the range safari crowd who have itineries and 4 x 4s, and the backpackers and voluntary workers who have public transport and only have to be somewhere sometime to fly home. The former seem often to regard the latter as quaint, and sometimes worthy, and get slightly scorned for their pains! I have to say that I don't quite like the idea
of just hopping out to safari for a couple of weeks and not seeing anything beyond the luxury tented camp and game reserves, but I haven't quite reached the stage of Paul Theroux in his 'Dark Star Safari', of believing that the parks aren't Africa at all, and so unworthy of attention. You can't really separate the national parks and safari industry from Africa, and the rest of the continent wouldn't be what
it is without them. I certainly wouldn't want to visit one without a trip to the other, and so we decided that for a couple of days we would give ourselves a treat.
Uganda is not as well set up for safari tourists as its neighbours - and without the concentrations of game and famous parks, it is unlikely to be high on travellers' must-see lists. The wildlife in Uganda was severely depleted during the turmoil of the rules of Milton Obote and Idi Amin, and by the retreating Tanzanian army after the overthrow of
Amin, but it is beginning to return and, although there are not high concentrations of game, you stand a fair chance of seeing a good deal - and if you're interested in primates or birds then Uganda (and also Rwanda) are fantastic places to visit. However, by the time I'd visited I was feeling a little bud of interest in ornithology (if only to identify what I had seen) and a wish I had enough moving room in my
budget to see the gorillas.
We arrived in Fort Portal on the Post Bus from Kampala, having driven alongside Kibale Forest and seen monkeys swinging in the trees and over rolling hills covered with the bright green of tea estates, and went around to meet Gilbert, who would be our guide for the next couple of days. We handed over a horrifyingly fat wodge of money, although Uganda - apart from the Gorillas - is probably the cheapest
place in which to safari.
Fort Portal - according to my diary - is a 'wee-moppet' sized town. We were updating our guide book as we went along, so that we could send it up to Jan when we finally returned to Kampala, and the Fort Portal entry ended up being a mass of 'that's not open', 'they're lovely', 'really does look like a brothel', and 'map = terrible, the main street is about 3 feet long'. (We'll get to the third comment in a moment). The book was right about the town's being very pretty, and in a fantastic setting. It was much cooler than Mbale, less humid, and with fewer mosquitoes. To the north are Lake Albert, the Semiliki Valley reserve, and National Park, to the south is the Bunyuruguru Crater Lake field, and to the south-west are the Rwenzori Mountains, visible on a clear day (or more usually at sunrise, before the haze appears).
Now a brief mention of the 'brothel'-like location... after our first night in Fort Portal we decided to move hotel, to somewhere a bit cheaper (it comes to something when you decide that £3/night is too pricey) and ended up in the Wooden Hotel, which the Lonely Planet described as having the décor of a New Orleans brothel. Now I've never been to New Orleans, let alone into a brothel there, so I couldn't tell
you if they're right or not, but the Wooden hotel certainly had gently decaying wooden walls, low level, soft focus lighting and a slightly seedy atmosphere. However, it was a bit cheaper than the Continental and, provided you got an en-suite room, perfectly inhabitable (if you didn't opt for the en-suite then you were faced with the one toilet and the one shower right next door to it, which were both very salubrious), so we stayed.
Our first trip was to the Semiliki National Park which had only recently reopened - its security depends to quite a large extent upon the situation in the Democratic Republic of Congo, which it borders. The drive there travels along the northern spur of the Rwenzoris, with spectacular views of the northern Ugandan plains, and the rainforest which runs over into the DRC.
We went walking in Semiliki, watching the Colobus monkeys dance through the trees above our heads, and occasionally getting the briefest glimpses of red-tailed monkeys and mangabeys. There are two small hot springs in the park, where we boiled eggs and matooke for our lunch and tried to work out how close we were to Congo. Our walk was enlivened further by brief encounters with two of the world's more
dangerous snakes: the black and green mamba. The green mamba was the safer of the two meetings - it was sliding gently down a tree about 15m from the park headquarters and heading off into the forest when we spotted it, and being an incredibly violent shade of bright green was easy not to run into.
The black mamba was slightly more unnerving - it was in some trees by the side of the road when our guide spotted it, and tried to help us see it. It has to be said that Fi was quite happy not to see it - the fact that I'm still not quite forgiven for forgetting to mention that there were snakes in 'Raiders of the Lost Ark' might give you an idea of her distaste for the creatures - but I was interested, and was
having difficulty spotting the dark, slender snake in the foliage. So our guide started to throw stones at the mamba to get it to move so we would see it - a move that delighted even me when I was a good two hour drive from the nearest hospital and no more than 20m from Africa's most poisonous snake. Still, the snake moved away into the forest, we had
seen it, and Fi, to her credit, didn't squeal at all!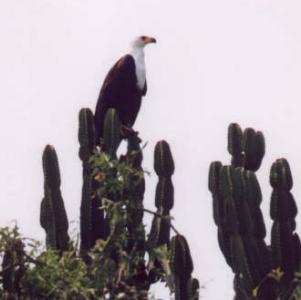 Next day we headed south to Queen Elizabeth National Park, leaving Fort Portal at 6:30am, and as we drove the sun came up gradually on our left, illuminating the Rwenzoris on our right. After sunrise we drove across the Equator - and posed for the obligatory photos with a foot in each hemisphere.
Queen Elizabeth is a large park - it contains Lakes George and Albert (you'd never guess Uganda had been a British Protectorate would you!), and wide areas of land on either side of the Kazinga Channel that runs between the two. Coming from Fort Portal we would be spending the day in the northern section of the park. The best way to see the southern section is to drive up to it from Mbarara, and take a couple of days over the trip. Queen Elizabeth is also exceptionally pretty -
it has grassy plains, dotted with giant 'cactus trees'. I'm sure these have a technically term, but to the untrained eye they do look like overgrown cacti. I'm equally sure that if I was a bird I wouldn't find it very comfortable to perch in one of these trees, but it didn't seem to bother the magnificent Fish Eagles.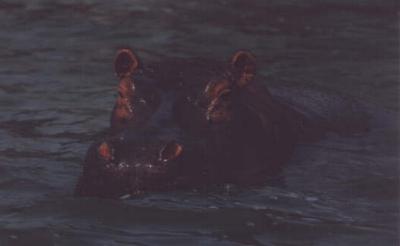 Queen Elizabeth is home to a fair amount of 'big game' - lion, leopard, buffalo, elephant, hippo - but on a day trip, unless you get to the park at the crack of dawn you're unlikely to see the first two. We'd like to blame the fact that we had a different driver, who didn't seem to have been taught/grasped the principle: slow driving = increased chance of spotting animals, for the fact that we didn't see the cats, and indeed his speed did mean that we had to hurtle backwards to see the few elephants of which we had caught a glimpse. However, the launch trip we took on the Kazinga Channel made up for him - as well as seeing elephants, and being dived at by a hippo who took a dislike to the boat - there was a huge variety of bird life on show, and Fi went
into raptures on seeing a Malachite Kingfisher.
On our last day in Fort Portal we decided that we would head out to see one of the Crater Lakes in the surrounding countryside, and relax there as a local community runs a small camp. So we found ourselves a decrepit matatu and headed off, me spending much of the journey avoiding the lecherous gaze of an elderly Ugandan dandy complete with
porno 'tache, and Fiona being used as a pillow by her neighbour. After half a day collapsed by Lake Nkuruba - which was very pretty, and apparently bilharzia-free - we felt up to the task of returning to town. This involved hitching a lift with one of the vehicles heading back from a market that was taking place further down the road. The first vehicle that came past was a pick-up, piled high with matooke, but we were offered a place on top, which we might have accepted if
we had thought we could have a) scrambled up, and b) hung on.
Next was a van, that refused to try and squeeze us both into the one space in the cab. However the next driver had no such qualms. He was a taxi driver, and already had four women and a baby in his car. Yet still he insisted on fitting us in: three of us in the front, and four of them (plus infant) in the back, with Fi perched on top of all kinds of wiring.
Still, after a while you begin to trust (possibly foolishly) that it's not really in their interests to get themselves and you killed, and accept your fate, and the pins and needles that go with it.