The h2g2 Poem
Created | Updated Oct 22, 2003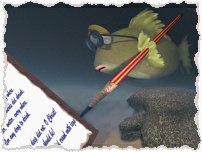 Of A Supervising Adult

Artificial

Light leaks from her world

As her parents' voices fade and doors close

In the house she suffocated herself in.

She tries to weave what's left

Into an inky snapshot, but

Threads exceed fingers.

The difficulty, she'd swallowed, would lie in the honesty:

Plagiarist voice in a teen aged brain

Citing the Impossibility of Daring.

No thoughts

Relinquished to the tangible pulse

Taken for purpose

By

Pseudo-philosophical arteries,

Definite. Plentiful. Permanent.

Cannibal absolute

Leaves victim to

Not meant to be

Scared writer.

Now,

My words chain'd by English,

I admit to my confessor

That I am ignorant. Unable to control

The flow of cathartic exo-conscience.

I know

Screaming is not Singing,

But it feels

real...

The light drains away without a gurgle, leaving only stars.

The scars,

Meaningful in their unimportance,

Are lost to the singularity.

Should I sell the pen and buy bulbs?