Hippies
Created | Updated Jan 28, 2002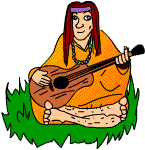 Hippies were small, colourful people who lived in fields and wandered around singing and playing guitars. They liked loud music and lots of drugs and anything made of more than twelve different colours.
They lived in America and spent most of their time trying to stop a very big war while under the influence of mind-altering drugs. They passed out flowers and fed each other and let their children run around naked, and also liked to dance whilst covered in dirt.
Most of them disappeared in the mid-seventies and returned around 1985 dressed as stockbrokers. A few escaped this disease, however, and can today be found working volunteer hours, dressed in Guatemalan clothing and wearing 20% of their body weight in crystals.