Swivs Travels: Uganda 2003 - Part Five
Created | Updated Nov 24, 2003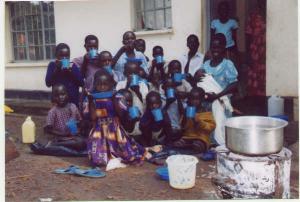 Those of you who have been around and reading the Post for the last three years may remember that in 2000 I took myself off to Africa for the second half of my Gap year. This year I returned.
Whilst we were staying in Mbale Fiona and I began to work out what we wanted to do in our three weeks travelling. Some things were essential - a trip to the Bakiga region around Kabale where Fi had spent her Gap year, and a trip to Rwanda. Some things were simply a treat to ourselves. We had thought about a trip to Nairobi National Park, but decided it was too expensive for four hours in the park, and began to look at other options in Uganda.
Fi had been to Murchison Falls on her Gap year, and quite fancied going somewhere different - I might have pushed the issue (I would love to see the falls, where the broad Nile finds itself channelled into a gap only a few feet wide, and where Idi Amin is reputed to have got rid of some of his unwanted subjects) but Murchison Falls National Park is pretty tricky and expensive to get to (though I later discovered that the Red Chilli Hideaway Hostel in Kampala does a pretty good deal). Instead we began to look at the Semiliki Valley Game Reserve (where you apparently stand a good chance of seeing leopard) and Queen Elizabeth National Park in western Uganda.
Even though we hadn't been able to get to Nairobi, we did still manage a couple of weekend trips from Mbale. First up was a weekend in Kampala. Fi, having passed through the city when fetching Claire from the airport, decided that she really quite fancied a mzungu weekend in the capital. I had no objections whatsoever - Kampala is home to Nandos, and Nandos is home to waffles. We stayed at the Red Chilli Hideaway, a beautiful backpackers outside the city centre, and spoiled ourselves rotten - waffles, real bread (most bread in Uganda is sweet bread), salad, and a trip to the cinema (even if the only thing on was Johnny English).
Kampala is built on seven hills - its tourist leaflets note the similarity with Rome - but that's about where the comparison ends. I know Rome's roads can be crazy, but the city doesn't have matatus. These beasts are the white minibus-taxis that provide the majority of public transport in East Africa (in Tanzania they're known as dalla-dallas). In Uganda they are licensed to carry 14 passengers - 3 to a row, 2 in the front plus the driver and conductor. Only Kampala sticks to these regulations, and therefore the matatus there have a degree of safety unknown elsewhere. This was my first introduction to matatus - when travelling in Tanzania we had borrowed the school pickup since we were going during school holidays - and based on my experience decided that the Lonely Planet guidebook was exaggerating their risk (I re-evaluated this decision whilst in Rwanda).
Matatus are essential to get between the city centre and Chillis, so Fiona introduced me to Kampala's Old Taxi Park - a shimmering lake of white minibus roofs when glimpsed from above - and most importantly, to the practise of trying not to get ripped off on public transport. Kampala's taxi park is really its own mini city, you head down into it, and try to find your way to the matatu you want (they all look identical and there's no overflow of signs). There's normally not too much difficulty in this when you're a mzungu as you don't exactly go unnoticed. Generally speaking you find yourself directed towards the centre of the taxi park, and then back out to somewhere around its edges. When you find your matatu you climb aboard and wait for it to fill up (they don't leave till they're full). Whilst you're waiting you can buy pretty much anything you never wanted: posters of the Ugandan cabinet, hideous hair grips, ribbons, wallets - all the sort of stuff you might try and avoid at a jumble sale. You can also get food and drink if you're so inclined - and if you ask for something they don't have people will fall over themselves and each other to get it for you.
A week after our trip to Kampala I was introduced to the less secure side of matatu rides, when Fi and I, accompanied by Claire, headed up to see Sipi Falls. These are about an hour away from Mbale, further north and higher up on the slopes of Mount Elgon (you still can't see the summit of the mountain though, that's very carefully hidden until you've paid to go into the national park, apparently).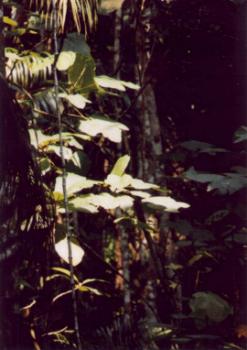 There are two routes from Mbale to Sipi: the old route, a murram road, that twists narrowly and steeply up the escarpment of Mount Elgon and passes through the small trading station of Kamus; or the new route, a nice, gently winding tarred road upwards. Our matatu took the old route - and the views down toward the Karamoja plains were spectacular, despite the haze. However, we took an interesting route through Kamus. Everyone else in the matatu had got out - there were just five mzungu who were going to Sipi Falls in the vehicle - and the road was packed with trucks, bikes and people. The driver got into the minibus and started the engine. We all sat up and looked interested to see how he was going to get along the road. Then, I turned to Fi and said 'He's not going to go...' she looked around, and then back at me, and went 'Oh he is'. Next second the matatu had charged down into the drainage ditch beside the road - there were trucks on one side of us, market stalls on the other, and a girl with a baby sitting on the slope of the ditch and a small bridge and concrete drainpipe ahead of us. Hooting wildly the driver hurtled onwards, the girl leapt out of the way, the matatu swerved up out of the ditch just before we hit the drain pipe, and barrelled on down the road, still tooting to alert people to our presence.
Sipi Falls are beautiful - though small in the grand scale of waterfalls. They fall 90 metres, straight over a cliff, plunging in darts into a pool at the bottom, behind them, for the bottom two-thirds of the fall, there is a large cave behind them. They are surrounded by the small farms and plantations that cover the slopes of the mountain, and there are a variety of walks you can do in - either straight down to the falls and back, or around to some of the smaller falls above them and to see bat-filled caves. We stayed at the Crows Nest in a small cabin-dorm, on the side of a small hill that directly faced the falls. Once we had been down to see the bottom of the falls - a hot, steep hike in the heat of the day, we collapsed outside the bar of the Crows Nest and gazed, hypnotised at the waterfall for the rest of the afternoon.