The Hootoo Home of Today
Created | Updated Oct 1, 2003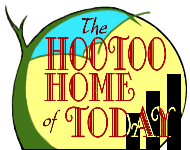 All Gas and Gussets1
'A fool chooses to starve himself and we all watch. 1 billion people have no choice and we ignore them.'
Apparently this was the slogan on a placard being waved around the famous box last week. Whether you consider David Blaine2 to be a fool or otherwise, the rest of the statement holds true as far as I'm concerned.
Mind you, dropping eggs onto starving countries might be rather a misguided kindness. I doubt that such a political message is really Mr Blaine's aim myself (if it is, he's made a right bish of it). My belief is that the purest form of art is to live one's life as a work of art; therefore David Blaine *is* a work of art. Somewhat derivative of Cornelia Parker and Damien Hirst though, as you'll find in these links:

This one has a pretty picture and this one a jolly interesting article.
Hmm, Cornelia Parker, she of the exploding shed at the Tate? We went to see that and I got told off for touching it, as well as groping the Henry Moores. Naughty me, mustn't touch the sculptures eh? Do join in the debate on this.
Oh well, let's hope it doesn't all end in tears for David; after all, Snow White had a glass coffin. After the wicked queen thought she'd done away with her, she ended up living happily ever after with a handsome prince. I always felt sorry for the dwarves, though. Presumably they had to get a new housekeeper; maybe they should talk to the Ugly Sisters since Cinderella also fell for the handsome prince line.
According to the Home of Today3 Cinderella was well within her rights to leave without giving notice. So long as she made a formal complaint she is entitled to a month's wages in lieu of notice, since one or more of the following definitely applied:
Cruel treatment
Threats and violent language
Bad and unwholesome food
A dirty and infested bedroom or kitchen
Immorality in the household
Unhappiness caused by ill treatment by other servants
Quite right, quite right. But in the original Grimm Brothers version the dwarves for one (or seven) were more than capable of looking after themselves and, being perfect gentlemen, would never have expected poor old Snow W to do the housework for them. In other respects, the Grimm Brothers version was coarser, to appeal to the likes of Nineteenth Century peasants and spimcoots. For instance, the wicked stepmother's first attempt at doing Snowy in was to lace her so tightly into a corset that the poor girl fainted. Picture that! (If you don't, I will.)
Yippee, yippee! *Looks forward to a new cartoon and beats spim soundly with his own tool.*
I have been delving into the nether regions of female gussetage and the like in the interests of research, with the aid of Women's Underwear 1880 - 1931. Terri presented me with this beautifully illustrated set of information cards and I have been engrossed ever since (yes, I was fairly gross before, it is true). What our Ms White needed, perchance, was No. 75371 from Weldons Illustrated Dressmaker Aug 1926:
For wearing under the present day frocks, what could be more useful and dainty than a Princess Petticoat and Knickers made in one, of Dorcas cambric or lingerie lawn?
I'm damned if I can imagine anything more useful than that.


Presented with such a thing, Snow Whatsit would never have got as far as the apple, and would have missed out on the chance of choking on...
Fried Apples and Dates4
Ingredients
Half a pound of dates - personally I favour 19th and 23rd September, hint!
Two large apples - preferably not regurgitated
Butter for frying
Ground rice
Milk
*Warning, this recipe contains violence and sex towards food stuffs.*
Remove seeds from dates - Surely not after a first date!?

Peel and slice apples

Beat butter

Dip sliced apples in milk and roll in ground rice - Wipe self down afterwards

Fry apple slices

Flatten dates

Roll in ground rice and fry

Serve hot piled together in a dish
Not my sort of fried fare I must confess. It has always been my ambition to have a Fry5 up every morning, followed by a nice pipe. No offence to our French readers

Well well, that will get people wondering about you my dear: 'spimcoot, what is he?' Perhaps Enid6 has the answer...
What Am I?

I am a shy animal; take away my tail and I become a river; change my head and I am an insect; add to my tail and I am a round, red root; change both my middles and look for me on your foot; take away my tail and you might say me to a goose; change my head and I am what a dove says to you; add to my tail and I am a home for a hen; change my head and you may bowl me along; change my tail and you will find that my first has four of my last.

As a special treat for you all, here is a charming pus filled puzzle I dreamed up this week whilst giving spim a gentle squeeze or two.
In how many moves can you change 'spim' to 'scab' via 'spot'? Te-he!7
The Hootoo Home of Today Archive
Terri & Yoda

and spimcoot
1
Spimcoot comments now in glorious technicolour!... ed
2
Blaine risking health, doctor warns:

David Blaine's endurance stunt is set to cause major damage to his health, medical experts warn.
3Daily Express publications.
4From the Home of Today.
5'Towering inferno' Stephen Fry is named Pipe Smoker of the Year.
6Enid Blyton's Book of the Year.
7
Terri! That's disgusting!... ed.