Without Comment Or Complaint
Created | Updated Jul 13, 2006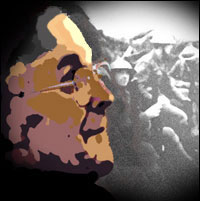 The wartime story of S/115863 Staff Serjeant Edwin John Inge
Like so many of his generation, Edwin (Ted) Inge was called up to fight in World War Two. This is his story as told to his daughter, the story of a very ordinary man who, along with thousands of others, was called upon to do his bit.
The War Diaries Part 2
We moved to Eecloo (between Ghent and Ostend) on 11th February 1945, and operated as part of 32 BSD, and this was our role for the whole of March, until we moved into Germany on 7th April, to a site at Kevelaer. There we started to feed, and supply, displaced persons (DP's) and split into three depots at Bocholt, Weeze, and Kevelaer. Supplies now included petrol, oil, clothing, medical and food items. By the end of May 1945 the depots at Bocholt and Weeze were closed, but Kevelaer, being a railway site, was extremely busy during that month.
My final move with the unit was on 2nd June 1945 to Wickede (Ruhr), which had a good railway siding and suitable depots; the first trainload of supplies arriving on the 7th. From then onwards the unit was extremely busy with trains being received at frequent intervals both day and night. An interesting note on August 23rd revelaed that the first issue was made to DP's of tobacco, pipes and razor blades! September 1945 was another busy month, a notable entry on the 13th being the arrival of 560 tons of Red Cross Parcels which apparently went to DP camps.
The 1st October was notable that key German civilians commenced employment as clerks and depot workers etc, to replace military personnel due for early release. From entries in the November diary it would seem that the unit was getting involved in talks with UNRRA, the United Nations relief organisation. Frustration evident on the 21st November when a train containing 600 tons of Red Cross parcels had to be diverted to Frondenberg on account of the Wickede siding being reserved for Montgomery's special train, for two days. On 29th November a truck missing from the diverted train arrived at Wickede, badly pilfered.
December appears to be a normal month, with many trains being received and unloaded without problems. The 11th December saw the first three members of the unit departing to UK for demobilisation, being Group 22. I am envious – my Group No. is 26! The role of the unit continued to be that of a Military Government DID issuing supplies of all kinds to DP's, through UNRRA.
Wikede, Germany, Summer 1945. The BMW 'found' by 146 DID and in use for long period. Captain Farnsworth at the wheel with Lieutenant Durack.
I did not obtain the diaries for January and February 1946 since, as far as I can recall, they passed without incidents of particular note. I left the unit at the end of February 1946 and came back to the UK for demobilisation.
For record purposes, the address of the unit during its travels in Europe, were as follows:-

Thetford     Croxton Road, (c/o CSD), Thetford, Norfolk
Normandy   All field locations – no fixed address
Le Havre     41 Rue de Triganville
Gent             Magazyn de Stukwerkers, Port Arthurlaan 35
Eecloo        Peignage D'Eecloo
Kevelaer   115 Kroaten Straat
Wickede   3 Ruhrwerk Strasse
The Without Comment Or Complaint Archive