The h2g2 Poem
Created | Updated Sep 24, 2003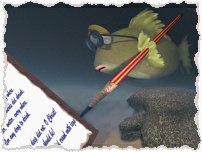 This is a poem written for Banned Book Week (September 20-27)
A Banned Book

It escaped the notice of the book burners.

It lay on a dusty shelf

in a used-book shop,

in an obscure town,

in an anonymous country.

It was easily overlooked,

with a worn cloth jacket

and a cracked spine.

It was written in English, in Russian,

in Cantonese, in Urdu, in Farsi, in Swahili.

The supreme leader objected.

The government disapproved.

The priests condemned.

The mullahs issued fatwas.

The newspapers denounced.

When the book shop owner died,

his books were sold off by the pound

to another shop owner.

Now the banned book waits on another shelf

for an unsuspecting hand to take it up.

Like a shabby old man

in a ragged coat,

it hides its subversive intentions

with a mild demeanor.

It merely wants to tell you a story.