Swivs Travels: Uganda 2003 - Part Two
Created | Updated Nov 24, 2003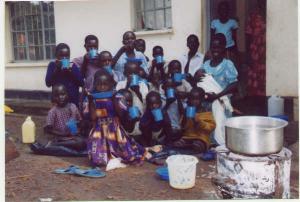 Those of you who have been around and reading the Post for the last three years may remember that in 2000 I took myself off to Africa for the second half of my Gap year. This year I returned.
My first day in Mbale completely wiped out my uncertainties. After waking up to bright sunlight and warmth and re-accustoming ourselves to tying sarongs, Fi and I decided to go and see what Jan's hospice was like. After the half-hour walk down the main street of Mbale I remembered that I really had loved living in Africa, and that the craziness was a large part of its appeal - it just took a little bit of getting used to, and acclimatization was quicker second time out.
Jan works with Uganda's Deliverance Church (a charismatic, evangelical group of churches) in Mbale. She runs a hospice in the town and a clinic in a small village called Buwasunguyi. Mbale lies at the south-eastern end of the Mount Elgon massif, not too far from the Kenyan border. It is quite humid, very green and lush, the mountain rises up behind the town as you approach from Kampala, forming a dramatic backdrop, with its steep slopes, cliffs and small waterfalls.
The town has everything you could need and, after my stint in Kilimatinde, it seemed to be the lap of luxury - there was electricity, running water and internet access, and Jan had a fridge and TV and video. The hospice is small - it has five beds - and is technically for AIDS and cancer patients. However, to a large extent it functions as a clinic, dealing with malaria, TB and other outpatient-type things. There are three nurses, a midwife, a clinical officer and Jan who work there - normally with one of them out at the village clinic each day.
So for six weeks we lived with Jan, looked after by her housekeeper Grace, and worked at the hospice doing whatever needed doing. Most of the time I worked with Muriithi - or Bernard as he occasionally introduced himself, confusing the new mzungu (white person) by using his first name - Jan's assistant and do-everything man. Muriithi is a Kenyan who had worked with Jan when she was there, and hopped across the border with his wife and son when she returned to Uganda. He had a tendency to try and run us down, laughing riotously, when he was driving Jan's pick-up, and make passing comments on the superiority of Kenya to us. We were re-painting the hospice.
In East Africa fairly often things are built but not often maintained, so the hospice was due a good clean-up. After a fortnight Jan discovered that Fi was seriously competent with a sewing machine, and decided that it would be really useful to have some covers and curtains for equipment at the hospice, so she left the painting party. Still, by the time Muriithi and I were done the hospice was sparkling. I spent days hiking up and down a slightly unstable stepladder, avoiding curtain rails, to clean the walls, widen cracks (numerous) for filling, and painting. I had great fun armed with a chisel opening huge cracks around windows and ceilings, and trying to make sure that my white and blue paints didn't cross their dividing line on the wall - not the easiest job given the dire state of Ugandan paint.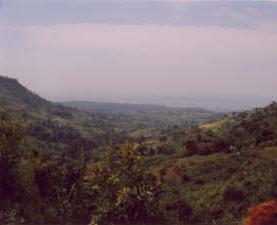 In our first week we went out to Buwasunguyi to see the clinic - a beautiful drive, along the red murram (dirt) road, through the villages, past small banana, maize, millet and coffee plantations - where we reorganised the filing system. At the end of our stay, as the painting came to an end (to the relief of my head, which really didn't appreciate all the fumes) I began to put some of Jan's accounts into the computer, and cooked the books to the tune of 300 Ugandan Shillings (about 10p) to make them balance.
Whilst we were staying with Jan we took the chance to see a little bit of eastern Uganda. We had thought about taking a weekend trip to Nairobi to go to the national park there and see the rhino, but stamped on that idea when we discovered it would cost a good $100 to do so. Instead we visited Kampala for a weekend and Sipi Falls for a couple of days, I went White Water Rafting on the source of the Nile, and we took 22 refugees up to Soroti...