The h2g2 Poem
Created | Updated Jun 29, 2006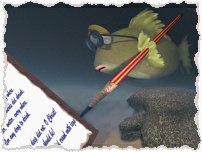 The Little Black Case

As the song by Engelbert says...

'Please release me, let me go...'

When Terri brought me home

You didn't really want to know.


Yet, when you needed my help

To make you look chic,

You were very quick

To nab me for the clinic.


I look smart with my handle

And two little wheels.

It makes you look posh

As you forge your deals.


Now you tell Terri you will

hold me to ransom.

Oh Boy! I never realised

I was so handsome!


Oh come on, Viking!

Play the game!

You only keep me

Because I have a name.


That little label,

The one near the zip.

Is why you keep me,

To make you feel Hip!