Sam Maguire's
Created | Updated Jun 26, 2007
Ireland Researchers proudly present




Sam Maguire's

Traditional Irish Pub


Beside the Ireland Researchers towers, we have the traditional pub called Sam Maguire's.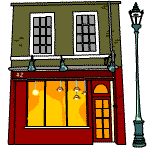 If you fancy a drink, chat, food or even a good old fashioned sing-a-long you're at the right place.
At Sam Maguire's, everybody is welcome and we're open 24/7!
We now have a duel dancing machine in the corner of the pub filled with Irish songs!
Our resident Chef Reefgirl is always on hand if you fancy some great grub!
So why not grab a drink?
If your looking to read some stories about Ireland, then the Entries on Ireland page is for you!