Sporting With Egon
Created | Updated Mar 19, 2004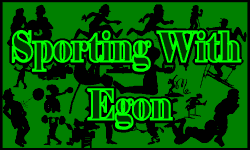 Remembering Marc-Viven Foé, the latest from Wimbledon, a spot of cricket, and a link to some rugby league.
Marc-Viven Foé (1975-2003)
As my regular readers may have noticed, I get rather over-excited about sport, but sometimes things happen in sport which throw sport itself into perspective. Events such as the deaths of cricketer Ben Hollioake and Rugby Union player Nick Duncombe. Well, those two healthy, talented young sportsmen died in a car crash and in hospital respectively. On Thursday the 26th of June, 28 year old, healthy, married father of three Marc-Viven Foé collapsed in the centre circle during the Cameroon versus Colombia Confederations Cup football game in Lyons, his adopted home town. He could not be resuscitated and died 45 minutes later.
Legendary Liverpool manager Bill Shankly once said that 'Football isn't life and death , it's much more important'. A Liverpool supporting friend of mine said last weekend that 'Bill Shankly didn't half talk a load of crap'. Football pales into insignifance besides tragedy like this. The death of a husband, a father, a son and a brother at the age of 28.
In the final of the competition Cameroon faced France. The players of both sides linked arms, alternating, during the national anthems and minute's silence. The entire Cameroonian side warmed up wearing shirts with Foé's name and number on the back. They held a huge photograph of their fallen team-mate
I once saw Marc-Vivien Foé play, for Man City against Sunderland during his loan spell with City last season. He had a hunger and ability missing from most of the rest of the players on both sides. City this week announced they will retire the Number 23 which Foé wore during his season with the club.
The select band of people known as the h2g2 Virtual Supporters Club took part in a thread of tribute to Foé, and we are preparing a guide entry remembering this fallen Indomitable Lion. The entry on Marc Vivien Foé- Footballer (1975-2003) is currently in peer review, and we hope to see it in the edited guide as our small tribute to a man who did so much for African football and entertained fans in Cameroon, France and England with his commitment to the sport he loved.
As Thierry Henry said after his and his teammates touching reaction to a goal against Turkey1, 'We know it is nothing, but it's all we can do'.
I am grieving this much for a man I never met. My deepest sympathies go out to Foé's widow Marie-Louise, three children, family, team-mates and friends. Marco, you will be missed.
Wimbledon
Look, I'm telling you, Tim Henman won't win! (as I write, I am watching his first set aginst Sebastian Grosjean, which is about to go to a tiebreak2. The other three quarter finals are the all-unseeded match between Alexander Popp and Mark Philipoussis (my money's on Philipoussis, although he has just gone a break down as I write), another unseeded player, Swedish doubles specialist Jonas Bjorkman facing Andy Roddick, the fifth seed and favourite since Hewitt and Agassi were disposed of by Karlovic and Philipoussis respectively. I expect Roddick to canter to victory there, and I also think Roger Federer will win the battle of the walking wounded against Sjeng Schalken. I can't see Henman winning against Grosjean, and certainly not if he plays Philipoussis in the semi-finals. Of course, by the time you read this, the quarter finals will probably be over and the semi-final draw known. However, a wager - so confident am I that Henman will not win Wimbledon, that if he does, anyone who post below this entry saying 'Henman to win!' will be entitled to a half-pint or a shot on me, if I ever happen to meet them, at an h2g2 meet or anything similar. HE WON'T WIN!
For those of you who want to know what actually happened in the mens quarter finals rather than my speculation at half past three, and also any updates during the remaining days of the tournament, use BBCi Wimbledon for all your Wimbledon needs.
As expected, the Belgians meet the Williams sisters in the Women's singles semi-finals. Reigning champion Serena Williams plays Justine Henin-Hardenne. Henin-Hardenne, she of the glorious backhand, beat Serena in the semi-finals en route to French Open victory. Kim Clijsters, in glorious form thus far at Wimbledon, meets Venus Williams in the other semi-final.

Rugby League from Intern
I know as much about Rugby League as I wish to (ie - nothing) but for those of you interested in the sport, Intern has written a Rugby League report initially intended for this column but which grew too large and which can now be found by following this link: Rugby League
Cricket
In the England/South Africa/Zimbabwe triangular tournament, Zimbabwe beat England, England beat South Africa and South Africa beat Zimbabwe in the first round of games.
Egon
1They all pointed to the sky as, being religious, they believed Foé to be in heaven
2
Rain stopped play - Henman losing 2 sets to 1 at time of going to press... ed.