The ICC Cricket World Cup 2003 - Week Six
Created | Updated Mar 19, 2004
SPORTING WITH EGON
presents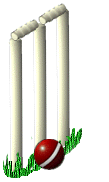 THE ICC CRICKET WORLD CUP 2003
WEEK SIX
Australia saunter into final, India and Kenya will play later today, weather permitting.
THE NEWS
Henry Olonga1 and Andy Flower2 have both retired from international cricket in the wake of their joint protest against the Zimbabwean government. Flower has already sent his English wife and his two children to Essex ahead of his contract with the county next summer, and he will spend his winters playing in Australian state cricket, thus avoiding the reaction from the Mugabe regime to his dissent. Olonga has also made it clear that he will not return to Zimbabwe, and he is considering applying for political asylum in the UK.
A rare outbreak of old fashioned, honest-to-goodness sportsmanship was spotted in the Australia-Sri Lanka semi-final. Sri Lankan all-rounder Aravinda da Silva bowled to Adam Gilchrist. Gilchrist appeared to get bat on ball and was caught behind. The Sri Lankans appealed, and the umpire gave him not out. Then Gilchrist, one of the Australians main batting forces, walked. Not something my generation are used to seeing from cricketers any more. Gilchrist, from a nation whose cricketers are often criticised for gamesmanship and sledging, allowed his honesty to overrule the Australian cause. Mr Gilchrist, I salute you.
THE MATCHES
Friday March 14th - India beat New Zealand by seven
wickets, Durban

New Zealand sealed their own World Cup exit with a woeful batting
performance, being dismissed for just 146, Zaheer Khan causing most of the damage. Dinesh Mongia only bowled one ball and picked up the wicket of Darryl Tuffey caught and bowled. As so often, captain Stephen Fleming was the only Kiwi to really pull his weight, and even he only managed to score 30. India did take until the 41st over to claim victory, but that was mainly due to the softly-softly approach adopted by unbeaten half-centurions Mohammad Kaif and Rahul Dravid.

Saturday March 15th - Sri Lanka beat New Zealand by 74 runs, East London

Marvan Attapattu carried his bat for 103 in Sri Lanka's total of 256-5 which ensured the qualification of Sri Lanka ahead of New Zealand. No other batsman passed fifty, but a useful performance in general enabled them to set a target the Zimbabweans were never in danger of catching. Sri Lanka's star bowler, with 3-30 was, surprisingly, opener Sanath Jayasuriya. The Sri Lankans must face the all-conquering Australians in the semi-final, something they surely can't be looking forward to.

Saturday March 15th - Australia beat Kenya by five wickets, Durban

Australia claim a predictable victory over the minnows, but the fact that they lost five wickets in scoring their 178, and that they failed to bowl the Kenyans out, must give the Kenyans confidence for their semi-final against India, bearing in mind the mockery the Aussies made of the Indians in the group stage. The batting of Steve Tikolo and Ravindu Shah and the astonishing bowling of left-arm spinner Aasif Karim (8.2 overs, 6 maidens, 3-7) will give the Kenyans much hope for their semi-final.
Super Six Table
Teams
Performance
Rank
Team
Points
Won
Lost
Tie/No Result
Net Run Rate
1.
Australia
24
5
0

0
1.85
2.
India
20
4
1
0
0.89
3.
Kenya
14
3
2
0
0.35
4.
Sri Lanka
11.5
2
3
0
-0.84
5.
New

Zealand
8
1
4
0
-0.90
6.
Zimbabwe
3.5
0
5

0
-1.25
SEMI-FINALS
Tuesday 18th March - Australia beat Sri Lanka by 48 runs

(Duckworth/Lewis Method), Port Elizabeth

Adam Gilchrist's sportsmanship, and a couple of mini-collapses, meant that the Australians only managed 212-7, Andrew Symonds' beligerent unbeaten 91 from 118 balls3 was the batting highlight, while Chaminda Vaas, Aravinda da Silva and Sanath Jayasuriya (the latter two are predominantly batsmen) took the wickets. The Sri Lankan response, however, was appalling. An utter collapse to 76-7 followed by a partial; resurgence to 123-7 by the time the rain came after 38 overs, left them suffering a heavy defeat by the Duckworth/Lewis method
4
Egon
126 year old black Zimbabwean fast bowler.
234-year-old white Zimbabwean batsman/wicketkeeper.
3He was born in England, y'know.
4Which I really can't be bothered explaining again.