The ICC Cricket World Cup- Week Five
Created | Updated Mar 19, 2004
SPORTING WITH EGON
presents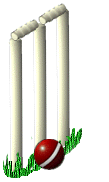 THE ICC CRICKET WORLD CUP 2003
WEEK FIVE
Australia canter, India and Kenya through, Americans qualify for 2007.
STORIES SURROUNDING THE WORLD CUP
The performances of World Cup minnows Kenya, Namibia, Canada and Holland have refreshed many people during this world cup - the quartet may not all have got particularly brilliant results, but they have shown themselves capable of putting a bit of fear into the big boys and, in Kenya's case, a semi-final place is looking astonishingly possible. However, none of those performances compares to this bit of news - The United States of America will gain automatic qualification for the 2007 world cup, and co-host the event with the West Indies. It is hoped that this action, which may see world cup games take place at Disneyland, will lead to Cricket increasing its US profile and the US team becoming competitive in a similar way to the smaller sides I mentioned above.
Zimbabwe gave a surprise recall to former captain Alistair Campbell in place of the injured Mark Vermeulen. Campbell had been working as a TV analyst, but returned to the side for Wednesday's game with Kenya.
TOURNAMENT FORMAT
The world cup format is explained in this column from week one (check the archive), and also here
THE MATCHES
Friday March 7th - Australia beat Sri Lanka by 96 runs , Centurion

Dan Gilchrist was run out for 99, and his captain Ricky Ponting scored a century as the Australians strolled to victory in their opening super six game. Australia's whopping total of 319-5 was never in danger from a Sri Lankan side who's only classy batsman on this occasion turned out to be veteran former Kent player Aravinda da Silva, who, alone, was never going to put up a challenge. Sri Lanka also lost Sanath Jayasuriya to an injury, although fortunately not a very bad one. Brett Lee and Glenn McGrath showed why they are two of the best bowlers in the world as Australia adjusted to the loss of another pace bowler, Jason Gillespie, to injury.

Friday March 7th - India beat Kenya by 6 wickets, Cape Town

India are probably the only team left who can challenge the almighty Aussies. However, they required a heroic captains innings by Sourav Ganguly to win this with only two overs to spare. Led by wicketkeeper/batsman Kennedy Otieno 1 the Kenyans scored 225-6, a solid if unspectacular total. Their bowlers then reduced the Indians to 24-3 before Ganguly and his vice-captain Rahul Dravid steadied the ship, and Mohammad Kaif joined Ganguly to bash some runs around and claim a hard-earned victory. Kenya are certainly not to be written off.

Saturday March 8th - New Zealand beat Zimbabwe by six wickets, Bloemfontein

Nathan Astle led the New Zealanders to a narrow victory over Zimbabwe in this game, after Zimbabwean captain and fast bowler Heath Streak scored a century. Zimbabwe now find themselves needing a result against Kenya to keep their semi-final hopes alive.

Monday March 10th - India beat Sri Lanka by 183 runs, Johannesburg

India advanced to the semi-final stage with this ritual humiliation of the Sri Lankans. Sachin Tendulkar's 97, in additiion to good scores from Virender Sehwag and Sourav Ganguly helped India to a very impressive 292-5; Muttiah Muralitharan the only bowler to make much of a breakthrough. What happened next was astonishing - Sri Lanka just capitulated, five players failing to score and Javagal Srinath and Ashish Nehra both picking up bowling figures of 4-35 as the Sri Lankans, who had entertained hopes of reclaiming the crown they held in 1995, were skittled for just 109; wicketkeeper Kumar Sangakkara their only player to pass 20.

Tuesday March 11th - Australia beat New Zealand by 96 runs, Port Elizabeth

Just as against England in the final group game, the Australian batting line-up started badly, then middle-order batsman Michael Bevan and bowler Andy Bichel put on a partnership. However, even Bevan's 56 and Bichel's 64 could only get the Aussies, already assured of a semi-final place, to 208-9. New Zealand strike bowler Shane Bond's 6-23 were wonderful figures against the best side in the business. However, Brett Lee (5-42) ripped through the New Zealand batting order, with ample support from McGrath, Bichel and Harvey, as the Kiwis collapsed to 112 all out; only captain Stephen Fleming batting with any degree of confidence, or indeed competence, in the face of an onslaught.

Wednesday March 12th - Kenya beat Zimbabwe by seven wickets, Bloemfontein

Kenya (not a test nation) are the 11th best team in a sport where there are only nine widely perceived to be any good, and yet Kenya are in the World Cup Semi-finals after this destruction of Zimbabwe. Both these teams were helped to the Super Six stage by political unrest - England defaulted against Zimbabwe and New Zealand against Kenya, but they still had to pull out some results to reach this stage, and Kenya's results have been better than Zimbabwe's. Andy Flower's 63 was the only Zimbabwean score of note as they struggled to 133 all out from 44 overs, Martin Suji (3-19), Collins Obuya (3-32) and all-rounder Steve Tikolo (2-2) all helping to restrict the batting. Kenya got off to an uncertain start, struggling to 33-2 and then 62-3, but Thomas Odoyo's 43 from 60 balls, and Maurice ODumbe's spectacular 38 from 20, both unbeaten, guided Kenya to the target from just 26 overs. Kenya will now play India in the semi-finals, while Zimbabwe have nothing but pride to play for in their final game against Sri Lanka, who are competing with New Zealand for the right to play Australia in the other semi.
Super Six Table
Teams
Performance
Rank
Team
Points
Won
Lost
Tie/No Result
Net Run Rate
1.
Australia
20
4
0
0
1.79
2.
India
16
3
1
0
0.86
3.
Kenya
14
3
1
0
1.03
4.
New Zealand
8
1
3
0
-0.88
5.
Sri Lanka
7.5
1
1
0
-1.43
6.
Zimbabwe
3.5
0
4
0
-1.20
Egon
1Also sometimes referred to as 'Kennedy Obuya', he is the brother of all-rounder Collins Obuya. Why he is, therefore, known as Otieno, I have no idea.