The Catalina Affair
Created | Updated Nov 20, 2006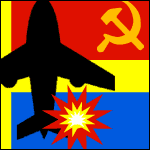 On 13 June, 1952, an unarmed Swedish radio surveillance plane of type DC-3 disappeared over international water in the Baltic Sea. A search for the lost DC-3 began immediately both by sea and by air with two Catalina type sea rescue planes, which were both unarmed.
The Attack
On 13 June, because of bad weather, one of the two Catalinas accidentally entered Soviet territory at what is now the Estonian island of Dagö (Hiiumaa). The Soviet authorities were notified. On the 16 June, one of the Catalinas was attacked by two soviet MiG-15s over international water north-west of Dagö. They were pursued to the west under continued firing and was finally forced to land.
Course of Events
At 04:09, the Catalina transmitted: 'Feigned attack by two MiG-planes', and two minutes later: 'We are being fired upon with tracers, 20mm. It's hitting to the right'.
At 04:15, the Swedish Air Command received the message: 'I have been fired upon and hit several times'.
Before the unarmed Swedish plane was forced to make an emergency landing the Soviet planes had made seven attack runs in which they had fired.
Under the first two attacks the Swedish plane took no hits.
Under the third the fuselage was hit by ricochetes from the water surface and the next run hit the left wing.
The following attack came straight from behind and damaged the elevator.
The sixth attack damaged the left engine and the seventh and final attack hit the cockpit and wounded the pilot and the navigator. The wounded pilot managed to land near a West German ship; the Münsterland. While the life boats were being lowered into the water the two MiG's made yet another feigned attack, but did not fire. After ten minutes the damaged plane sunk.
Then What?
Once the Soviet planes had disappeared, the crew was taken aboard the ship and went to Hangö where they were treated and then flown home by the Swedish air force. The Swedish protests after the incident were rejected categorically by the Soviet authorities, who even claimed that the unarmed Swedish plane had opened fire first at the soviet fighters. In later years, however, the Russians have admitted responsibility for the attack on the Swedish rescue plane. What happened to the DC-3 and its crew is still unknown.