JK Rowling - Author
Created | Updated Jul 24, 2007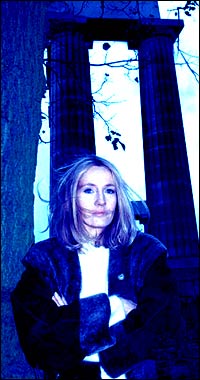 Joanne Kathleen Rowling is often called 'the wizard behind Harry Potter'. She is one of the richest and most famous authors of our time, despite the fact her fame rests solely on one idea that formed the basis of a series of books. The immense popularity of the Harry Potter books and their associated spin-offs, including movies and merchandise, has been called a 'worldwide phenomenon'.
A Little Bit of History
Joanne's parents, Peter and Ann, were respectively the manager of an aircraft factory and a lab technician. They met on a train in the early 1960s and married shortly afterwards, moving near Bristol in the UK. On 31 July, 1965 their first child, Joanne, was born. Less than two years later another child, Di, was born.
Joanne is said to have been a dreamy child, often imagining things and playing fantasy games. Her parents were both extremely keen readers, and in her early years, Joanne had many books - especially fantasy stories - read to her.
Joanne wrote her first story down at the age of six - a story about a rabbit called Rabbit. For years she had been making up stories to tell her younger sister. As she couldn't remember them exactly for each retelling, she was prompted to write them down. Joanne has said that writing is all she's ever really wanted to do. Writing the adventures of Rabbit fortified that ambition.
Joanne's family moved house to a place named Winterbourne. She and her sister made friends with two nearby children, a brother and sister named Ian and Vikki Potter. The four children enjoyed dressing up, Joanne particularly as a witch or wizard. She always liked the name Potter - no prizes for guessing why she chose it as the surname of her main character! It is also thought that the character of Harry is based to some extent on Ian.
In her final year of school Joanne became Head Girl. One of the characters in the Harry Potter series, Hermione Granger, is extremely keen on and serious about schoolwork and studying. Joanne has admitted that this character was based on herself:
I wasn't as clever as I thought I should be. I don't think I was a know-it-all. I was obsessed with achieving academically, but that masked a huge insecurity...
After finishing school, Joanne studied French and Literature at Exeter University, as proposed by her parents. During this time she spent a year working as an assistant teacher in France. After university she took various menial secretarial jobs, not enjoying any of them. She took every opportunity in the office to write fantasy stories, leading to her being dismissed from a couple of positions. She said:
All I ever liked about offices was being able to type up stories on the computer when no one was looking. I was never paying much attention in meetings because I was usually scribbling bits of my latest stories in the margins of the pad or thinking up names for my characters. This is a problem when you're supposed to be taking the minutes of the meeting.
The Birth of Harry Potter
Joanne has said that the idea for the 'Harry Potter' character arrived in her head during a train delay in 1990. 'Harry just strolled into my head fully formed', she has said. She spent the whole of the four-hour delay thinking about Harry Potter, creating his world, his friends and his school in her head. Over the next weeks and months she spent as much time as possible expanding her idea, jotting down notes about this boy and his adventures in a magical world.
Joanne remembered how she had enjoyed teaching English in France, and decided to go to another foreign country. She went to Portugal, where she had a fun time teaching English as a second language. It was there that she met a Portuguese journalist Jorge Arantes, whom she married. Their daughter Jessica was born in 1993, but shortly afterwards Joanne and her husband divorced. Joanne left Portugal and went to Edinburgh, Scotland, with her daughter.
The first few years Joanne spent in Edinburgh were not pleasant. She was on welfare in government housing. In a flat that she described as 'grotty and depressing', she continued to write the story of Harry Potter. However, the atmosphere was hardly conducive to fantastical thoughts. Soon she hit upon an excellent idea: she would wander around Edinburgh with her young daughter in a pram until Jessica fell asleep. Then she would make her way to a café (Nicolson's in Edinburgh was her favourite, as they would let her stay all day with her baby) and sit and write (longhand) for several hours for the cost of a glass of water and an espresso. Looking back on it, she was amazed at what she managed to achieve in such short periods of time. Harry Potter was her way of escaping her dreary life.
Joanne had made a promise to herself to send her manuscript to publishers. For someone who was so concerned about others judging her work, this was a big step. Fortunately she received a grant from the Scottish Arts Council one year, and had managed to acquire a cheap typewriter and typed up two copies of the manuscript (she could not afford a computer or photocopying costs). She sent the two manuscripts out to two agents, expecting a rejection letter. Instead, agent Christopher Little said he would be pleased to represent her manuscript on an exclusive basis. The manuscript was sent out to publisher after publisher (including the publishing giants). Each one rejected the book for a variety of reasons. Finally Bloomsbury agreed to publish Joanne's first novel about Harry, titled Harry Potter and the Philosopher's Stone.
The 'Worldwide Phenomenon'
Harry Potter and the Philosopher's Stone hit the shelves in the UK in 1997. Joanne was published as 'JK Rowling', as she had been told she should use her initials to disguise the fact she's a woman - apparently boys would not be as interested in reading the books if they knew the writer was a woman. Joanne says she never wanted to be famous, and that all she'd wanted when writing her book was to see it on the shelf in the local bookshop. The book won many awards, including the prestigious Nestlé Smarties Book Prize Gold Medal. When the book was auctioned off to be published in the USA, it fetched $100,000, a price more than any other children's book. The book was published in the USA under the title Harry Potter and the Sorcerer's Stone. It has since been translated into many languages and can be found in most countries around the world.
Due to the high price her first novel had fetched, Joanne started attracting media attention, and spent time doing interviews, book readings and book-signings. Although she says she didn't really write Harry Potter as a book for children - she wrote it for herself - she was always keen to talk to her young fans when she met them. A sequel to the first book - Harry Potter and the Chamber of Secrets - was published in 1998, and Joanne began working on the third book in the series almost immediately afterwards. She planned seven books in the series - one for each of the years the hero was at school. Joanne was extremely happy, as she now had enough money to buy her own little house.
Joanne sold the film rights for the Harry Potter books to Warner Brothers. A search for a director, and then a cast, took place. Joanne was quite important during the film's production, as she was able to have a say on a lot of issues. She publicly praised screenwriter Steve Kloves and lead actor Daniel Radcliffe. However, Chris Columbus (who directed the first two Harry Potter films) admitted in an interview that Joanne had never really wanted the films, saying that she had only visited the set of the first film once, and hadn't turned up to the set of the second film.
Warner Brothers has since trademarked almost everything relating to Harry Potter, and has collected hundreds of related internet domain names. They have threatened and pursued legal action against those who they claim infringe their copyright; they even went so far as to take away the innocent Harry domain names purchased and made into fan sites by teenagers.
Although the first four Harry Potter books were released one per year, there was a three-year wait for the fifth. Children had come to see the Harry Potter books as annual events; many were extremely disappointed by the delay. Joanne refused to let anybody (publishers included) rush her. She gave away very few clues about the fifth book to her waiting audience - revealing in one interview that the book would be a papery object with pages. Joanne has said she does believe in the incredibly tight security that surrounds her unpublished books.
Between the publications of book four and five, Joanne managed to take a lot of time for herself. She married Dr Neil Murray in late 2001 and gave birth to baby David in April 2003. Joanne was hampered by a plagiarism suit, in which she was the defendant (and was victorious). 2001 also saw the publication of two tie-in Harry Potter books: Quidditch Through the Ages and Fantastic Beasts and Where to Find Them, which are both mentioned in the Harry Potter series as books the characters read. Joanne wrote the books - under pseudonyms - and donated the royalties to British charity Comic Relief.
In 2003, Joanne was estimated as being richer than the British Queen. She denies this, saying she is not interested in finances, but she does know how much money she has.
Life after Harry Potter
Joanne has said that if she writes an eighth Harry Potter book it will probably be a long way down the track. She is also considering writing another tie-in book, once again donating the royalties to charity. She has not dismissed writing other books - including adult novels - and says she does have some ideas and scribbles. She was however content to concentrate on writing the Harry Potter novels - to the extent that Joanne had to decline the offer to write a story for the 2005 BBC TV series of Doctor Who, despite being 'amused' by the idea.
Despite worries about the press, security threats, rumours and fame, Joanne loves her family, loves writing the Harry Potter books and says she is happier than she's ever been before in her life.