Roger Delgado - Actor
Created | Updated Jan 12, 2012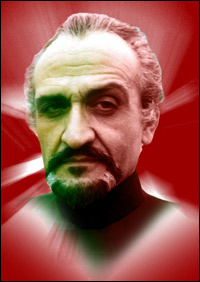 I'm the nastiest Arab of the lot in the film Khartoum, a thoroughly treacherous, sinister and conniving character. Then there was the Audrey Hepburn film, Masquerade, in which I had another villainous Arab part. I was a jolly old rascal of a carpet-selling Arab in Michael Bentine's film, The Sandwich Man too...
Roger Delgado, interviewed in the 1950s1.
In the 1950s and '60s, actor Roger Delgado was familiar to British TV viewers for playing sinister foreign villains. Yet behind the scenes he was cherished by actors and production crew alike as a charming and dear friend.
Early Years
Many would be surprised to learn that Roger Delgado was actually a Cockney, born on 1 March 1918 in Whitechapel, London - well within the sound of Bow Bells2. His distinctive foreign looks came as a result of having a French mother and Spanish father, who christened him Roger Caesar Marius Bernard de Delgado Torres Castillo Roberto as a reminder of his heritage.
He was educated at the Cardinal Vaughn School and The London School of Economics. On leaving school his first job was in a bank, but after a year and a half he quit for the theatre, joining a repertory company in Leicester.
When war broke out in 1939 he was initially turned down by the forces because of his mixed parentage. But he eventually joined The Royal Leicester Regiment and saw active service in Europe and then with the Chindits behind enemy lines in Burma.
An Actor's Life
Roger returned to acting in 1947, when he joined York Repertory Company (while portraying a Gestapo Officer there he met an actor called Barry Letts, more of whom later). In 1950, he joined the BBC Drama Rep, where he worked on a number of radio broadcasts putting his voice to good use both as actor and narrator.
His varied theatre career included such productions as The Cactus Flower, The Power and The Glory, Enrico and he even made a pantomime appearance in 1962 called Little Old King Cole with popular comedian Charlie Drake.
Roger appeared in numerous films and TV serials in the 1950s and '60s. His first film appearance was in 1953 in The Captain's Paradise, in which he portrayed a Kalikan policeman opposite Alec Guinness. Playing foreigners soon became a speciality for Roger. At one point in his career he portrayed no less than six Middle-Eastern characters in the space of as many months, unfortunately finding himself the victim of the dreaded type-casting which affects so many actors. But, as the quote that introduces this entry shows, Delgado didn't seem to mind. In fact he relished being 'the most evil man in the universe'.
On television he began to work his way through the cast lists of a number of action adventure series, nearly always playing the suave and sinister villain in such shows as Randall and Hopkirk (Deceased), The Champions, Man in a Suitcase, Danger Man and The Saint.
A Masterful Role
By 1970, the actor Barry Letts had become producer of Doctor Who. He and Terrance Dicks had decided to create a new villain to oppose The Doctor. The character was called the Master, a renegade Time Lord like the Doctor, but utterly evil. Roger was the only actor to be considered for the role.
Roger made his first appearance as The Master on 2 January 1971, in the first of a four part story called 'Terror of The Autons'. Sporting a goatee beard, dressed in a dark suit with a Nehru style collar and with a widow's peak added to his high hairline he looked every inch the satanic enemy the producers had envisaged. Such was the success of the character's creation that he was asked to appear in every subsequent Doctor Who story that year, and he made regular appearances for the next two seasons.
All of the regular cast in the series had become good friends with Roger. The irony of the Doctor and his best enemy enjoying a strong friendship was inescapable, yet - as Jon Pertwee noted in 1987 - Roger's public and private personas couldn't have been more different:
Roger was great at a dinner party - he was a fine conversationalist - but he was a very, very shy man. He wasn't very outgoing at all. In fact, we used to joke that the greatest fun he ever had was to sit at home with his dog at his feet with his carpet slippers on drinking a good cup of brandy whilst he actually caught up with his dinner!3
Inevitably, the part of the Master began to become a little repetitive and Roger was finding it hard to be considered for other work because producers and directors thought that he was a permanent member of the Doctor Who cast so he asked to leave. He would therefore be written out of the series at the end of the 1974 season in a story provisionally entitled 'The Final Game', which was due to begin production in the Autumn of 1973, seeing the Master being blown up - perhaps to save the Doctor's life. As things turned out, his final performance was a less-fitting end to a popular character, last seen scuttling away from the dreaded daleks in a confused scene that brought 'Frontier in Space' to such an awkward end.
A Sad Finale
In the summer of 1973, Roger travelled to Turkey to work on a Turkish/French comedy film called The Bell of Tibet, delighted at the prospect of changing his villainous image. Usually when he was on location work he would be accompanied by his wife of 17 years Kismet. However this was the one occasion when she wasn't with him. On 18 June, 1973, Roger was collected from the airport in Turkey by a taxi to be taken to a location just outside Neveshir. En route the driver took a mountain road, losing control of the car on a bend and plunging the car into a ravine. Roger and a film technician were killed in the accident. Roger was just 55 years old.
It's testament to Delgado's skills as an actor that he managed to both charm and terrify a nation of children as the Master, creating a charismatic character that lived on after his death with no less than five other actors taking on the role at different times in the series' later years.
Further Reading
1Quoted in Roger Delgado - A Tribute, edited by Michael Piatkowski, 1987.
2To be a true Cockney, you have to be born within hearing distance of the bells of St Mary Le Bow church in London.
3Roger Delgado - A Tribute, ed cit.