The Memphis Belle
Created | Updated Sep 22, 2008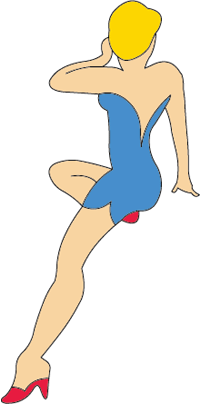 The B-17 Flying Fortress called Memphis Belle (Serial No 41-24485) is a wartime legend. Her fame did not lie only in the fact that she was the first B-17 to complete her tour of duty during World War II, but also that she managed, despite severe damage, to bring all her men back from every single mission unscratched.
However, this magnificent bomber has a turbulent history. Dumped to rot once in an airplane boneyard, and later ravaged by vandals, the Belle was almost lost to the world twice - a fate unbefitting so great a war legend. In fact, it wasn't until the 80s that people recognised her for the heritage that she was, and brought her the proper respect that she deserved.
The story of the Memphis Belle begins with a simple love story between a young girl from Memphis and a young airman...
The Belle
The romantic appeal of the Memphis Belle comes from the origin of the name. Margaret Polk1 was the daughter of entrepreneur Oscar Polk. Bred in Memphis, Tennessee and educated at the Miss Hutchinson's school for girls, she grew up to become a fetching young girl who could have her pick of suitors.
When her sister Elizabeth, who was married to a doctor assigned to the 91st Bomb Group in Florida, moved to Washington with her husband following a transfer, Margaret was urged by her mother to go along. This brought her to a man who would change her life - Robert Morgan.
Robert Morgan was a pilot in the 91st Bomb Group who had given Elizabeth's husband, Edward McCarthy, a lift a few times. He and Margaret had met following one of these lifts, after which they developed an attraction to one another. However, it wasn't until a row broke out in the McCarthy household that they started going out.
It started when Morgan invited Margaret to his birthday party. Unfortunately, Margaret had conveniently forgotten about another date lined up for that day, which could not be politely cancelled given the situation. The argument between Margaret and the McCarthy's effectively hurled her into Robert Morgan's arms, and led to them dating seriously.
Like all men with girls, Morgan was determined to impress Margaret as best he could. Given that he was the pilot of an enormous Flying Fortress, Morgan had no difficulty whatsoever - he would take off early for practice missions and send his bomber roaring over Margaret's house, shaking it right down to its foundations. This probably impressed Margaret, seeing as her guy had a B-17 instead of a fancy car like other men.
When Morgan was transferred with the rest of the 91st Bomb Group, the young couple underwent a trial separation. Although Margaret, who went back to Memphis, renewed a romance with a young Park Ranger (whose photograph she would keep for the rest of her life), her heart belonged to Morgan. On his part, Morgan flooded Margaret's mailbox with letters pledging his love and loyalty.
Eventually Morgan was sent to Bangor, Maine and assigned a B-17F of his own, which his crew was to keep in the air for 100 hours to test the systems and fuel consumption before they were sent overseas. The crews were given their choice of destinations, and Morgan had only one place in mind - Memphis.
The B-17F with the registration number 41-24485 - which would later be christened the Memphis Belle - flew into Memphis on the 12 September 1942 and was shown off to the girlfriend of the pilot who flew her there. That same night, Morgan took Margaret to a dance at the Peabody Hotel, where he gave her a love knot ring; one week later, he gave her a diamond engagement ring.
Fifteen days later, Morgan was sent along with the 91st Bomb Group to England, where he would serve in the 8th Air Force for ten gruelling months. He would not return to the US until May 1943.
Although Morgan and Margaret's romance did not survive very long after the war, Margaret became an honorary member of the Memphis Belle Association where she helped to raise funding for the plane until her passing in 1990.
The Plane
Built by the Boeing Aircraft Company, the Memphis Belle was sent into active duty at the 8th Air Force in England under the command of Captain Robert Morgan. She flew from 7 November, 1942 to 17 May, 1943, during which time she became famous for being not only the first heavy bomber during World War II to complete 25 missions2 but also the bomber that kept her entire crew alive. All in all, the crew of the Belle had downed eight enemy fighters3, dropped a payload of over 60 tons worth of bombs over Germany, France and Belgium, and had flown 148 hours and 50 minutes of combat missions, covering more than 20,000 combat miles.
Although the Belle had on many occasions returned from her missions battered and with her engines shot out4, none of her men ever sustained much more than a scratch5.
The Crew
Capt Robert K. Morgan - Pilot
Capt James Verinis - Co-pilot
Capt Vincent B Evans - Bombardier
Capt Charles B Leighton - Navigator
T/Sgt Harold P Loch - Engineer/Top Turret Gunner
T/Sgt Robert Hanson - Radio Operator
S/Sgt Cecil H Scott - Ball Turret Gunner
S/Sgt Clarence E Winchell - Left Waist Gunner
S/Sgt Casimer 'Tony' Nastal - Right Waist Gunner
S/Sgt John P Quinlan - Tail Gunner
Joe Giambrone - Crew Chief - who replaced 9 engines, both wings, two tails, and both main landing gear
Crew members who did not participate in the PR tour:
Levi Dillon - 1st Top Turret Gunner (flew four missions)
Eugene Adkins - 2nd Top Turret Gunner (flew six missions, Hands froze on 6th mission)
E Scott Miller - Right Waist Gunner (flew 15 missions)
After the War
The world's most famous bomber almost wound up as somebody's soup pot after the war, however. Following the completion of their tour of duty in 1943, the crew of the Belle returned to the States on a public relations tour of more than 32 cities to thank the public for supporting the war effort. After the tour, the Belle was assigned training command duty stateside, and wound up in an aircraft boneyard in Altus, Oklahoma in 1945. Had it not been for the reporter who spotted her there and contacted the Mayor of Memphis, she would probably still be there.
The City of Memphis bought the Belle for a mere $350 and brought her home on July 17 1946 where she was eventually placed on a pedestal near the Army National Guard in 1950 before being moved to the Air National Guard at the Memphis airport in November 1977. It was during this period with the National Guard that the Memphis Belle tottered on the edge of ruin once again as vandals all but destroyed her.
However, thankfully for the Belle, there were those who were dedicated enough to the preservation of war heritage to come to her aid. The next nine years saw various parties struggling to raise enough funds to restore the Memphis Belle. Finally, after a relentless fundraising effort by a local businessman called Frank Donofrio, the City of Memphis agreed to allocate a piece of land on Mud Island for the display of the bomber. Both Federal Express and Boeing donated $100,000 each towards her restoration, and the City itself contributed $150,000. And in response to the broadcast made by Hugh Downs of TV's 20/20 to raise money for the Belle, the American people rose magnificently to the occasion by donating the rest of the $576,000 needed for the Belle's restoration.
Honour came for the Belle on the 44th anniversary of her 25th and final mission, when the Memphis Belle Pavilion was dedicated to her. The ceremony, which brought almost 25,000 people, saw the largest formation of B-17s since World War II - seven B-17s in all - roar overhead, bombing the pavilion with thousands of rose petals.
The Memphis Belle will never fly again. She has been declared a national historic treasure by the Air Force, and has been moved to the Memphis Belle Memorial Association's restoration facility at the Millington airport, where she will undergo further restoration work for the next few years.
From Legend to Movie
Ironically, the story of the Memphis Belle's last mission has been twisted and muddled by years of filmmaking. The story of the Memphis Belle was first told by Hollywood director William Wyler6, who flew five missions with the Belle, in a 1943 documentary. The documentary, which was about B-17 crews in England who were sent to bomb Germany, used the 'last' mission of the Memphis Belle to Wilhelmshaven7 as a focal point.
More than four decades later, Wyler's daughter Catherine got together with filmmaker David Puttnam to recreate the story of the Memphis Belle's last mission, based on a book by Monte Merrick. They scoured the world in search of B-17s that were still flight-worthy, and found a grand total of eight. Among the B-17s that were featured in the movie was the famous Sally B, who was cast in the role of a number of planes including the Belle herself in the final sequence when she returned to base, battered after the battle.
The movie, a semi-fictional dramatisation of a historic event, further convoluted the Belle's history by spreading the story that her last mission took place in Bremen - which was in fact her 21st mission, one whole month before the Lorient one, probably with the reasoning that a story about a mission to take out a Focke-Wulf factory would be more interesting than one about bombing a U-Boat Pen. Other than changing the names of the Belle's crew, most of the story as told in the movie was true, although some events were rehashed or borrowed from earlier missions. The Belle did in fact catch fire on their 8th mission to Lorient, when a Focke-Wulf 190 fighters, whose shells were for the aircraft's nose, nearly shot the entire tail section off. The tail caught fire and Captain Morgan was forced to make a 5,000-foot dive to burn out the fire8 (as seen in the movie, although it was one of the engines and not the tail). There really was an injured gunner, but it was the tail gunner and not the left waist gunner, and that took place during the mission to Rouen - the Belle came back from her final mission mostly intact, with her crew grinning from windows and glass nose. And it was the captain himself and not the right waist gunner who was the 'religious guy'. However, there were also certain elements of real aerial warfare incorporated into the 1990 movie that were not featured in the original 1943 documentary such as mid-air collisions, which the filmmakers did not wish to show then for fear of scaring the crews stateside who had not yet been sent to England and weakening their morale.
Whatever Became of the Memphis Belle's Crew?
The men went their separate ways after the war. Five of the deceased eventually returned to the war front. Bombardier Vince Evans9 who died in 1980, completed a second tour of duty with Captain Robert Morgan in the Pacific aboard B-29s.
The first top turret gunner Levy Dillon10 transferred to the 306th Bomb Group after his fifth mission on board the Belle, and eventually retired to Providence Forge, Virginia, where he died in 1998. The second top turret gunner Eugene Adkins (deceased 1995) became a Gunnery Specialist on B-17s, B-29s, B-36s and B-50s, and retired with the rank of Major.
Tail gunner John Quinlan, who was the only officially-wounded crew member of the Belle, tried in vain to keep up with Robert Morgan in the Pacific Theatre, where he managed to shoot down a total of three Zeros (the term the pilots used for Japanese fighters) before his B-29 was shot down. He eventually had enough of the war and retired to Stephentown, New York, where he eventually passed away in 2001.
Co-pilot James Verinis, whom Robert Morgan regarded as the Belle's 'real' co-pilot, went on to take command of the B-17 The Connecticut Yankee, and retired from the air force as a Lieutenant Colonel, before going on to run his own contract furniture business, JAVCO, Inc. He passed away on 3 March 2003.
The others decided against furthering a career in the army. Ball turret gunner Cecil Scott was a pressman for a rubber company before the war; he went down another rubber road after the war and worked for the Ford Motor Company for 30 years. He was the first of the Memphis Belle's crew members to pass away - in 1979.
The Belle's first right waist gunner, Scott Miller, missed out on the PR tour because he hadn't completed his tour of duty at the time, thus earning the nickname 'The Lost Crewman'. He passed away in 1995. The left waist gunner Bill Winchell, who died in 1994, went back to his job as a chemical engineer (he was chemist for a paint company before the war). His diaries provided most of the accurate accounts of the Belle's missions.
Tony Nastal flew just one mission with the Belle; however, he qualified for the PR tour because he had completed 24 other missions on other Fortresses. Following the tour, he went right back to Europe where he flew another 55 missions11, two of which were in support of the D-Day landing. On 10 August, 2002, Nastal died peacefully while resting at home, at age 78. A memorial service service was held for him at the local American Legion Post in Apache Junction, Arizona.
The two surviving members of the crew are engineer Harold Loch and radio operator Robert Hanson. Harold Loch went back to Wisconsin after the war and eventually retired as a building contractor and records registrar; however, he is still actively working in the real estate business. Robert Hanson is a retired businessman in Mesa, Arizona, and still has his bullet-ridden logbook.
And as to what became of the man who flew the Memphis Belle...
Robert Morgan, for whom one tour of duty was obviously not enough, went on to command his own B-29 squadron at the 20th Air Force, 73rd Bombardment Wing, 497th Group, 869th Squadron in a spanking new B-29 Superfortress named Dauntless Dotty, and flew a grand total of 25 missions. He left the squadron on April 24, 194512, and continued to serve in the USAF Reserve before retiring in 1965 as a full Colonel. However, he retained his active pilot's licence, occasionally flew warplanes13, and worked full-time in the real estate business.
On 21 April, 2004, Morgan broke his neck when he fell at the Asheville Regional Airport April 21. He was admitted to a hospital in Asheville, where he remained in critical condition for several weeks. On 10 May, Morgan came down with pneumonia, and that combined with a massive infection brought him face-to-face with one final combat that he lost. Robert Morgan died on Friday, 15 May 2004. He was 85. He was buried on 22 May with full military honours including an Air Force flyover at the NC State Veterans Cemetery, bringing yet another chapter of the Memphis Belle story to a poignant end.
The Complete Missions List
1942
| | | | |
| --- | --- | --- | --- |
| Mission | Date | Location | Target |
| 1 | 7 November | Brest, France | U-Boat Pens |
| 2 | 9 November | St. Nazaire, France | U-Boat Pens |
| 3 | 17 November | St. Nazaire, France | U-Boat Pens |
| 4 | 6 December | Lille, France | Marshalling Yards |
| 5 | 20 December | Rommily-Sur-Seine, France | German Aircraft Depot |
1943
| | | | |
| --- | --- | --- | --- |
| Mission | Date | Location | Target |
| 6 | 3 January | St. Nazaire, France | U-Boat Pens |
| 7 | 13 January | Lille, France | Marshalling Yards |
| 8 | 23 January | Lorient, France | U-Boat Pens |
| 9 | 4 February | Emden, Germany | War Plant (Ford Factory) |
| 10 | 14 February | Hamm, Germany | Marshalling Yards |
| 11 | 16 February | St. Nazaire, France | U-Boat Pens |
| 12 | 26 February | Wilhelmshaven, Germany | Sea Port |
| 13 | 27 February | Brest, France | U-Boat Pens |
| 14 | 6 March | Lorient, France | U-Boat Pens |
| 15 | 12 March | Rouen, France | Marshalling Yards |
| 16 | 13 March | Abbeville, France | German Fighters |
| 17 | 22 March | Wilhelmshaven, Germany | Sea Port |
| 18 | 28 March | Rouen, France | Marshalling Yards |
| 19 | 5 April | Antwerp, Belgium | War Plants |
| 20 | 16 April | Lorient, France | U-Boat Pens |
| 21 | 17 April | Bremen, Germany | War Plant (Focke-Wulf Factory) |
| 22 | 1 May | St. Nazaire, France | U-Boat Pens |
| 23 | 4 May | Antwerp, Belgium | War Plants |
| 24 | 15 May | Wilhelmshaven, Germany | Sea Port |
| 25 | 17 May | Lorient, France | U-Boat Pens |
Further Reading
Morgan, R and R Powers. 2001. The Man Who Flew the Memphis Belle: Memoir of a World War II Bomber Pilot. Penguin, USA.
Perkins, BW. Memphis Belle - Biography of a B-17 Flying Fortress. Schiffer Publishing, Inc.
Col Robert Morgan's letter in response to the 1990 movie review by Mark Leeper
Legends of Flight: Col Robert K. Morgan and the Memphis Belle
Memphis Belle - The Robert K Morgan Crew
The Memphis Belle Memorial Association
1A bit of trivia: Margaret was in fact an indirect descendant of James K Polk, the 11th President of the United States.
2Because of the incredibly high casualty rate - about 80% of the bombers were shot down during the first three months of America's participation in aerial combat over Europe - the command generals set 25 missions as incentive to boost airmen morale.
3Of course, the actual number was probably very much higher; however, kills made in combat had to be confirmed by another airman. If nobody saw you hit the enemy fighter, hard luck.
4Five times, in fact.
5The only time a crewmember - the tail gunner John Quinlan - sustained a real injury was during the mission to Rouen, France, and that was only a minor shrapnel wound to the leg. Quinlan, who received a Purple Heart for his injury, was terribly embarrassed by the whole thing.
6Wyler's director credits include Mrs Miniver, The Best Years of Our Lives, Ben-Hur and Funny Girl.
7The Memphis Belle's last mission was in fact to Lorient, France, but Wyler decided to use Wilhelmshaven because it contained more action.
8The Belle returned home later that day with half her tail missing.
9Evans had previously been a Hollywood writer for Bogart, a restaurant operator, a race car driver and, before joining the army, the operator of a fleet of trucks. His friends included Ronald Reagan, Jimmy Stewart and June Allyson.
10Dillon was injured on his third mission, but because he never reported it, there is no official record and he never received a Purple Heart.
11Serving his second tour on board the B-17 Dixie Marie.
12Dauntless Dotty, however, continued to serve in the 20th Air Force until she plunged down into the Pacific Ocean following a fuel stop in Kwajalien, killing ten of her 13 crew.
13And that's not just vintage stock either. He flew a Boeing B-52 Stratofortress at Barksdale AFB, Shreveport, LA in April 1999 and the subsonic B-1B Bomber at Robins AFB, Georgia only six months afterwards.