The ICC Cricket World Cup 2003 - Week Four
Created | Updated Mar 19, 2004
SPORTING WITH EGON
presents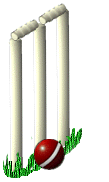 THE ICC CRICKET WORLD CUP 2003
WEEK FOUR
Kenyan qualification, Duckworth/Lewis cock-up, England out,

Nasser resigns and more!.
STORIES SURROUNDING THE WORLD CUP
Nasser Hussain resigned as England one day captain in the wake of his team's failure to advance beyond the group stage. Hussain says he is still willing to captain the test match side. Players tipped to replace Hussain include vice-captain Marcus Trescothick, Michael Vaughan, and longer shots Adam Hollioake, Andrew Flintoff, Paul Collingwood and, if some rumours are to be believed, possibly even Mark Butcher, who doesn't even play one-day internationals at the moment!
The super six stage has been decided. If you follow the links to the
tournament format and super six scoring system below, you may understand this slightly bewidlering stage a bit more...
The 'Super Six' in question are Australia and India, who were expected, Sri Lanka, New Zealand, who were considered probables, Zimbabwe, outsiders, and Kenya, who surprised everyone. Final week of group stage reports below.
TOURNAMENT FORMAT
The world cup format is explained in this column a fortnight ago, and also here
THE MATCHES
Thursday February 27th - Australia beat Namibia by 256 runs

, Potchefstroom

Australia batted first, scoring 301-6, a surprisingly low score
considering the best team in the world were playing some surprise
qualifiers. Glenn McGrath, Australia's premiere Paceman, then ripped
through the Namibian batting order, taking world cup record figures of 7-15 while Andy Bichel took two wickets in his only over, a maiden, as Namibia were skittled for 45.

Thursday February 27th - South Africa beat Canada by 118 runs, East London

The hosts kept their chances of qualification alive with this winscoring 254-8 but failing to bowl out Canada, who edged their way to an unexciting 136-5, South African middle order batsman Dipenaar top scoring for the game with 80.

Friday February 28th - Sri Lanka beat West Indies by 6 runs, Bulawayo

I watched the end of this action-packed game live, and it was very
exciting as the West indians narrowly failed in a fantastic run chase,
leaving them on the verge of an exit from the World Cup. Ramnaresh Sarwan bravely returned to bat having retired hurt with a blow to the head, and for that alone deserves a mention. Sri Lankan stars were Sanath Jayasuriya with the bat and Chaminda Vaas with the ball.

Friday February 28th - Zimbabwe beat Holland by 99 runs, Cape Town

The much-maligned, politically unsettled co-hosts set themselves up for qualification by adding to the list of teams to beat Holland in this tournhament, getting a total of 301 which included a 44 from only 22 balls by captain (and bowler) Heath Streak. No Dutch players performed spectacularly, but all put in tidy performances as they reached a respectable 202-9

Saturday March 1st - India beat Pakistan by six wickets,
Centurion Park

India overcame their old enemy easily, thanks in large part to opener Sachin Tendulkar. This victory clinched India's place in the super six stage alongside Australia, Pakistan's bowlers having failed to supplement their killer pace with the necesary accuracy and wit. Outwitting Tendulkar just proved too much for them, and left them needing a heavy victory over Zimbabwe and an England defeat to Australia .

Saturday March 1st - Kenya beat Bangladesh by 32 runs,
Johannesburg

Bangladesh bungladesh!

Sunday March 2nd - Australia beat England by two wickets, Port Elizabeth

England scored a respectable 204-8 against the old enemy - a score which may have been even better had it not been for Australian second-string bowler Andrew Bichel ripping through the England team with 7-20 from his 10 overs. England also had Australia in disarray at the beginning of their reply, but some tactical risks by Nasser Hussain failed to pay off as Michael Bevan, one of the world's premier one day batsman, and Bichel spearheaded a late-innings resurgence as the Aussies won, reaching 208-8 with only two balls to spare. England now had to rely on Pakistan beating Zimbabwe, but not by too much.

Monday March 3rd - Netherlands beat Namibia by 64 runs,
Bloemfontein

The Dutch finally won a game after a few good performances earlier in the tournament. Klaus van Noortwijk scored Dutch cricket's best one day international score of 134, shortly after opener Feiko Klooperburg had scored the first Dutch one day century. Holland's 314-4 was just too much for Namibia.

Monday March 3rd - New Zealand beat Canada by five wickets, Benoni

Canada's world cup finished in the same vein as most of their games- a decent batting performance led by Australian-born opener John Davison, and the bowlers took a pummelling. Canada got 196, Davison scoring his 75 from 62 balls, but New Zealand need just 23 overs to beat it.

Monday March 3rd - South Africa tied with Sri Lanka, Durban

Sri Lanka go through. South Africa go out due to their miscalculation of the Duckworth/Lewis score adjustment system left them level on runs when they thought they'd won.

Tuesday March 4th- West Indies beat Kenya by 142 runs,

Kimberly

Kenya, a non-test nation who qualified for the super six stage, got
flayed by the West Indies, a test nation who will host the next world cup, but go out due to the fact that that their game against Bangladesh was abandoned as a No Result. Kenya go through. Windies go home.
Interesting

Tuesday March 4th - Zimbabwe v Pakistan - No Result,
Bulawayo

Rain put paid to this game, allowing Zimabwe to qualify at the expense of Pakistan, as the points were split.
Group A Table
Teams
Performance
Rank
Team
Points
Won
Lost
Tie/No Result
Net Run Rate
1.
Australia
24
6
0

0
2.04
2.
India
20
5
1
0


1.11
3.
Zimbabwe
14
31
2
1
0.50
4.
England
12
3
3
2
0
0.82
5.
Pakistan
10
2
3

1
0.23
6.
Netherlands
4
1
5

0
-1.45
7.
Namibia
0
0
6


0
-2.95
Group B Table
Teams
Performance
Rank
Team
Points
Won
Lost
Tie/No Result
Net Run Rate
1.
Sri

Lanka
18
4
1
1
1.20


2.
Kenya
16
43
2
0
-0.69
3.
New

Zealand
16
4
24
0
0.99
4.
South

Africa
14
3
2
1
1.7

3
5.
West

Indies
14
3
2
1
1.1

0
6.
Canada
4
1
5
0


-1.99
7.
Bangladesh
2
0
5

1
-2.05
Super Six Table
Teams
Performance
Rank
Team
Points
Won
Lost
Tie/No Result
Net Run Rate
1.
Australia
12
2
0

0
1.67
2.
Kenya
10
2
0
0


1.06
3.
India
8
1
1
0
-0.35
4.
Sri

Lanka
7.5
1
1
0
-0.06
5.
New

Zealand
4
0
2
0
-0.

94
6.
Zimbabwe
3.5
0
2

0
-0.98
Egon
1Includi

ng walkover against

England
2including defaulted game against

Zimbabwe
3Including

walkover against New

Zealand
4Including a

default against Kenya