About the Albatross
Created | Updated Jun 26, 2005
John Ridgway Save the Albatross Voyage 2003-4
AIM: TO PREVENT THE NEEDLESS SLAUGHTER OF THE ALBATROSS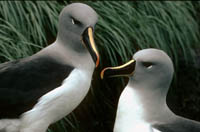 On the Verge of Extinction

The albatross is being driven to the verge of extinction by fleets of pirate fishing boats, operating in the Southern Ocean, to catch the Patagonian Toothfish. Setting lines up to 130 km in length behind their boats, these illegal longline fleets set an estimated 1 billion hooks annually. Some of the baited hooks are eaten not by their intended targets but by albatrosses, who dive on the floating frozen squid bait before it sinks and are dragged under water to drown. The albatross is simply a useless by-catch.
It is believed that up to 100,000 albatrosses are being needlessly killed annually, 17 of the 24 species are now under threat, double the number in 1994.
Prevention is Possible

Simple mechanical methods, which ensure the baits are never near enough to the surface for albatrosses to reach them, do exist. Once installed in the boats, these methods would drastically reduce the number of albatrosses being caught. BUT it is the willingness to use these methods which is lacking. Please help us to ensure the methods are enforced by raising world awareness to this needless slaughter. The Patagonian Toothfish industry needs regulation if it is to become self-sustaining. The pirate fleets need to be driven from the seas.
The Rime of the Ancient Mariner by Samuel Coleridge tells of the terrible price the Ancient Mariner paid for killing just one albatross. Now, human greed is threatening to kill all the remaining albatrosses. And all this, just when the human race is needing all the luck it can get.
SOURCES OF INFORMATION ABOUT THE ALBATROSS
Albatross species information - These links are to dedicated pages on endangered birds on the Birdlife International website
ASOC (Antarctic and Southern Ocean Coalition) In 2002, ASOC developed a list of vessels that had attracted international attention as a result of their fishing activities in the Southern Ocean. This is it, the IUU Vessel Red List
BirdLife International - Local and International Save the Albatross Campaigns:
British Antarctic Survey (BAS) The British Antarctic Survey support an extensive Albatross monitoring programme. Flight data from albatrosses tagged by BAS will be shown on these pages during the Voyage
Greenpeace – Southern Ocean Pirate Fishing Expedition 2000
International Conventions Involved in Seabird Protection.
International Pacific Halibut Commission - information about the campaign in the North Pacific to protect the Short Tailed Albatross, which led to regulations requiring bird catch avoidance devices to be used by all long liners.
Wake Forest University in Hawaii - The Albatross Project tracks the flights of albatrosses in the North Pacific from Hawaii to South America and back.
General information about the albatross
Back to the Contents page