WARTIME RECIPES
Created | Updated Jan 20, 2003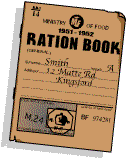 Here is a selection of recipes from during the Second World War, made when food was rationed.
You can find out all about rationing here


, but this is the average amount an adult in Britain was allowed per week-
Bacon and Ham- 4 oz
Meat- To the value of 12s. 6d
Butter- 2oz
Cheese- 2oz
Margarine- 4oz
Cooking Fat- 4oz
Milk- 3 pints.

Also available was "Household Milk"-which was dried skimmed Milk. One box was supplied every four weeks
Sugar- 8oz
Preserves- 1lb every two months
Tea- 2oz
Eggs- 1 shell egg and every 4 weeks a box of dried egg
Sweets- 12oz each four weeks.




On top of these foods people were encouraged to plant and grow their own produce-like Carrots and Potatoes-to "Dig for Victory".

OATMEAL SOUP
serves 4


1 oz margarine

2 medium onions, grated

2 tablespoons medium oatmeal

1 pint of cold water

salt and pepper

1/2 pint of milk

3 medium carrots, grated


Heat the margarine in a pan, add the onions and cook for 5 minutes. Blend the oatmeal with the cold water, tip into the pan and stir as the mixture comes to the boil. season with salt and pepper. Simmer for 30 minutes then add the milk and carrots and cook for another 15 minutes.


QUICK VEGETABLE SOUP
serves 4


1/2 oz of dripping

12 oz of mixed vegetables, diced

1 1/2 pints of water or stock

salt and pepper

chopped parsley


Melt the dripping in a saucepan, add the vegetables and cook gently for 5 minutes. Add the water/stock and simmer for 25 minutes. Season the soup and serve sprinkled with the parsley.



Serve Soup with dumplings.
DUMPLINGS

Mix 8 oz flour with 1 teaspoon of baking powder and 1 teaspoon of herbs. Mix to a firm dough with cold water. Divide the mixture into equal parts and roll into small balls. Drop into soup during the last 10 minutes of cooking.

FISH BAKE
serves 4


1 lb of grated potatoes

salt and pepper

2 large onions, grated

2 tablespoons of chopped parsley

1 1/2lb cooked, flaked fish-cod, haddock etc

1/4 pint of milk


Grease a casserole dish, then layer up the ingredients starting with a layer of potato, sprinkled with onion, then fish, then end with potato. Pour over the milk and season well. Put the lid on the casserole, and then bake in a moderate oven for 30 minutes.

STEAK AND POTATO PIE
serves 4


8 oz thinly sliced onions

1/2 cooking fat

3 tablespoons of flour

1/4 pint of water

16 oz tinned stewed steak

8 oz tinned peas

1 teaspoon of salt

1/4 teaspoon of pepper

2 lb cooked, mashed potatoes


Fry the onions in the fat, and add the flour. Add the water gradually and bring to the boil. Boil for 5 minutes. Add the steak, peas and seasoning and mix well. Place in a pie dish, cover with the mashed potato and brown in a hot oven.

SCALLOPED POTATOES
serves 4


2lb potatoes

2 tablespoons of flour

1 pint of milk and water or household milk

4-6 oz grated cheese

salt and pepper

2 tablespoons of chopped parsley


Scrub the potatoes, and cut them into thin slices, blend the flour and the milk together, arrange the potatoes in layers in a pie-dish, sprinkling each layer with grated cheese, season and moisten with milk. Finish with a layer of cheese, pour over the last of the milk, cover with a lid and bake in a moderate oven for 45 minutes. Before serving, sprinkle with the chopped parsley.

CHINESE CAKE
serves 4


1 1/2 lb of haricot beans

salt and pepper

1 lb mashed potatoes

4 oz boiled bacon, chopped

2 teaspoons of dried sage

1 teaspoon of sugar

breadcrumbs


Soak the beans for 24 hours, and then simmer them for 1 1/2 hours until they are soft. Then add all the remaining ingredients-except the breadcrumbs. When this is mixed well, transfer the mixture to a greased baking tin, and bake in a moderate oven for 1 hour.

CORNED BEEF WITH CABBAGE
serves 4

1/2 oz cooking fat

1 leek, sliced

1 lb of corned beef, cut into small pieces

1 lb of cooked potatoes, cut into small pieces

1 dessertspoon of flour

1/2 cup of stock

1 cabbage, shredded

salt


Heat the fat in a saucepan, and fry the leek lightly. Add the corned beef and potatoes, sprinkle in the flour, and add the stock. Cook altogether until hot. Meanwhile cook the cabbage in salted water, and serve the two together.

CHEESE BEANS
serves 4


1/2 lb dried beans (soaked overnight)

2 oz grated cheese

1 tablespoon of vinegar

2 teaspoons of Worcester sauce

1/2 teaspoon of made mustard

pinch of salt and pepper

2 tablespoons of chopped mint and parsley


Cook the beans in salted water. Once they are tender, strain but retain two tablespoons of water.
Add to this water the remaining ingredients (except the herbs) and cook until the cheese has melted. Return the beans to this sauce, and sprinkle over the herbs. Serve with boiled potatoes.

QUICK WELSH RAREBIT
serves 2


2 slices of bread

1 teaspoon of margarine

1 teaspoon of chutney

2 tablespoons of grated cheese


Toast the bread on both sides and spread with margarine and chutney. Cover with grated cheese, and return under the grill until the cheese is bubbling.


RHUBARB CRUMBLE
serves 4


1lb rhubarb

2 tablespoons golden syrup

1 1/2 oz fat

4 oz flour

pinch of salt

3 tablespoons sugar


Wipe the rhubarb and cut into bite-sized pieces. Simmer with the syrup until cooked, and place in a fireproof dish. Rub the fat into the flour salt and sugar until it resembles fine breadcrumbs. Sprinkle over the fruit and bake in a moderate oven for 15-20 minutes.

GINGER PUDDING
serves 4


6 oz of flour

2 teaspoons of bicarbonate of soda

2 teaspoons of ground ginger

2 tablespoons of sugar

3 oz of sultanas

1 oz margarine

1/2 pint milk


Sift together the flour, ginger and soda into a bowl. Add the sultanas. Boil the margarine and milk together and add to the flour mixture. Mix well. Transfer to a greased 2 pint pudding basin, cover with greased greaseproof paper and steam for 1 1/2 hours.

POOR KNIGHT'S FRITTERS
serves 4

8 large slices of bread

a little margarine

jam, golden syrup or thick fruit puree

a little fat for frying


Make up sandwiches with the bread, filling and margarine. Cut into fingers and fry in the oil. Top with a sprinkling of sugar.