The Post Quiz: Philosophy 101
Created | Updated Aug 14, 2016
Wax philosophical, like these guys.
The Post Quiz: Philosophy 101
We all know those bores who drone on about Kierkegaard? But what did he really say?
Match the philosopher to the catchphrase.
Catchphrase
Thinking-type person

Leap of faith
Cogito ergo sum
Γνωθι   σεαυτον
Music of the spheres
Rigidly defined areas of doubt and uncertainty
Guardian of the Threshold
Moral luck
Das Ding an sich
Hypothetical realism
If you do not find it believable it may be that you have not yet reached the necessary stage of evolution.

Konrad Lorenz
Vroomfondel
Rudolf Steiner
Tuesday Lobsang Rampa
Bernard Williams
Descartes
Socrates
Kant
Pythagoras
Kierkegaard
Easy, right? If you want to check your memory, click on the picture below.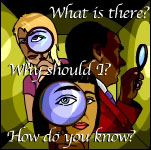 Post Quiz and Oddities Archive