NaJoPoMo Highlight: Cabbage Rolls, A Warming Dish
Created | Updated Nov 29, 2015
Spotted around the site: signs of NaJoPoMo. We stole them.
Cabbage Rolls, A Warming Dish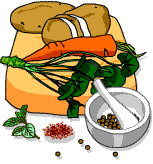 There was a splendid cabbage in my box of Riverford vegetables, so I decided to do Yottam Ottolenghi's stuffed cabbage rolls. The cabbage leaves are lightly cooked, then rolled round a filling of basmati rice, vermicelli, ricotta, pine nuts and herbs. (I think you could leave out the vermicelli and use all basmati rice.) Then you pour a mixture of tomatoes and white wine on top and bake it. The result is tasty and warming.
Create Challenge Archive