42 Words: Rhyming Right
Created | Updated Jun 14, 2015
The Thinker writes a poem in 42 words
A few weeks ago paulh started a journal asking for 42 word stories and poems. There have been a few submissions, and we thought you might like to read them. If you want to try your hand at it, we suggest you pop over to paulh's journal and add your own.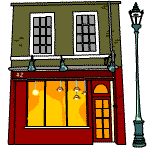 Walk this way
to the cafe.
Talk to Jock
about getting a wok.
Fight the knight
In the middle of the night.
Solve a complex riddle
on how to use a griddle.
Wink at a European mink
when it's having a drink.